+ It was all Sox, all the time last night in Boston with an 8-1 pounding of the Cardinals. Game 1's mojo was unquestionably in Boston's favor, which anyone interested in wasting everyone's time will tell you is probably due to the beards or something.
Adam Wainwright couldn't catch pop-ups, Pete Kozma's defense wasn't reliable, the umpires couldn't figure things out in one try, and in general, they were just playing the game The Wrong Way.
Here's Jon Lester shattering one of the Cardinals' bats before hitting a guy in the thigh.
+ The Red Sox were so dominant, they broke Jon Heyman.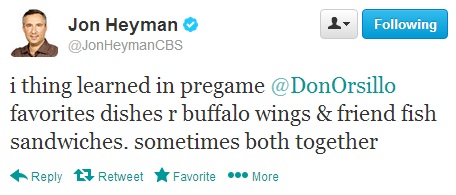 + And for an added twist, Carlos Beltran, playing in his first World Series game in over 40 post season appearances, left with a rib injury. He'd robbed David Ortiz of a grand slam before leaving, but after Beltran left the game, Ortiz knew it was safe to finally hit a two-run home run.
David Ortiz: ties Carlos Beltran for 8th-most postseason HR (16) ... one more than Babe Ruth (who hit all of his in World Series)

— ESPN Stats & Info (@ESPNStatsInfo) October 24, 2013
+ This is absolutely, tragically correct. Except probably not Game 7.
There is camera in the field of play. Knowing MLB, a ball will hit this camera in extra inning in game 7 pic.twitter.com/GX70lEyfli

— Cork Gaines (@CorkGaines) October 24, 2013
+ Somehow, with the Vikings set to play the Packers this week, all that anti-Packers rhetoric spouted by former Green Bay, current Minnesota receiver Greg Jennings has come into the news. And somehow, everybody misconstrued Jennings' words as mindless insults and not "jokes", like he intended.
The Packers got Jennings his Super Bowl ring, while with the Vikings, Jennings is leading the league in very sad headshakes.
+ Take that, whoever votes in these types of things.
I heard I was voted the most hated. Just want to let my fans know I appreciate the support & I have nothing but LOVE for you guys! #TeamVick

— Mike Vick (@MikeVick) October 23, 2013
+ Take a drink for every name on the now updated-to-fit- the-ongoing-tragedy-of-Browns-football shirt you actually recognize.
The famous Browns jersey has officially been updated following the official announcement » pic.twitter.com/jo0Ig1NbBL

— FOX Sports: NFL (@NFLONFOX) October 23, 2013
+ Lastly, here's this.
Mac is wearing the greatest shirt of all time pic.twitter.com/hzdcDX4Pzz

— Estebomb (@Estebomb) October 24, 2013