Joel Embiid knows how to make a headline.
The Sixers phenom, who has missed the Sixers' last nine games because of a bruised knee and meniscus tear, has been able to make news all season thanks to his sense of humor and social media savvy.
But this time, it wasn't an Embiid post that's causing people to take notice — it was a photo shared by Olivia Pierson, one of the stars of the E! reality show WAGS.
Pierson, who was most recently linked romantically with Jacksonville Jaguars tight end Marcedes Lewis, appeared to be going all-in on "The Process" on Valentine's Day, tweeting out a picture of her with a shirtless Embiid to her 1.5 million Instagram followers.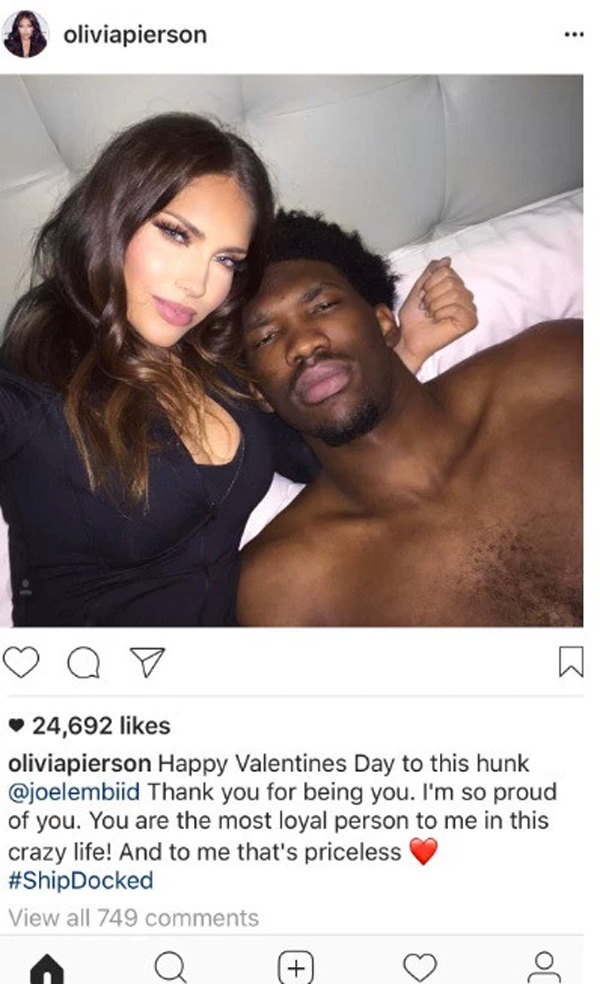 This isn't the first time the two have been linked romantically. Philly society photographer HughE Dillon tweeted about the pair back in September, when they had reservations to dine at Del Friscos.
Sexy Olivia Pierson from the new E! Show WAGS & her boyfriend, #sixers basketball player Joel Ebiid will be at Del Friscos on Friday night.

— HughE Dillon (@HughE_Dillon) September 3, 2015
So was Embiid playing everyone into thinking he was single, and trying to achieve greatness to impress a celebrity crush? At one point, Embiid seemed interested in dating music star Rihanna, and Sixers fans on Reddit even came up with some impressive evidence that Embiid was going after Canadian model Danielle Knudson. Embiid also made a play for model Bianca Ghezzi, asking on Instagram to see her feet.
It's hard to tell, because shortly after Pierson's post, Embiid fired back with an Instagram post of his own, with the hashtag #FakeNews written over the photo, along with a comment, "Old news I'm not trusting this process."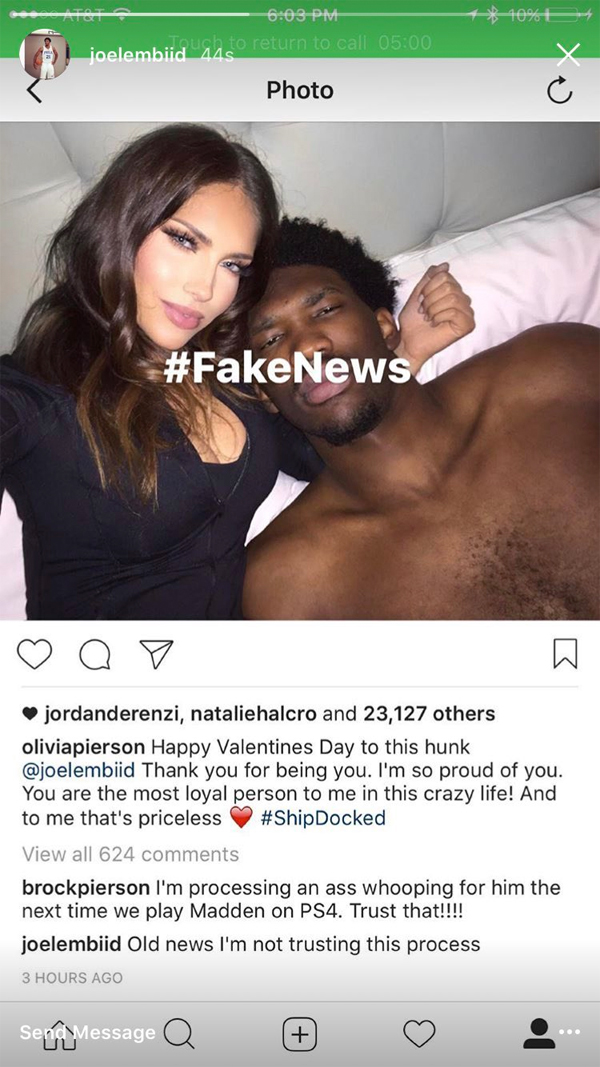 Both posts have since been deleted.