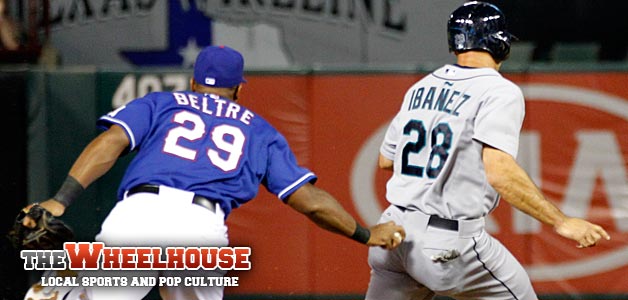 Yesterday was the Fourth of July, and you know what that means!
☆。★。☆。★ 。☆ 。☆。☆ ★。\|/。★ SPORTING EVENTS ★。/|\。★ 。☆。。☆ ☆。 ★。 ☆ ★

— joe м (@dr_pizza_MD) July 5, 2013
Now it's the fifth of July, so you know what that means!
Nothing. Nothing special.
Well, we are all still watching Living Legend Raul Ibanez play baseball. So there's that.
#Mariners Fun Fact...that was the 5th career home run for Raul Ibanez on the 4th of July (2002, 2005, 2006, 2008, 2013).
— Jeff Evans (@jeffrevans) July 5, 2013
Other than that unfortunate playoff run with the Yankees, is there a more fun player to watch hit clutch home runs than Raul Ibanez? Assuming you're done hoping the Phillies save the forests.
At this point, after another home run last night, his power and clutchness seem to spit in the face of the gods.
Please stop letting Raul Ibanez hit home runs.

— Paul Boyé (@Phrontiersman) July 5, 2013
He didn't, though.
Raul. Ibanez. Wow.

— Joe Posnanski (@JPosnanski) July 5, 2013
IF YOU AIN'T FIRST, YOU'RE LAST
Speaking of cool guys, Sports Illustrated has a feature on famed NASCAR driver Ricky Bobby's rise to driving prominence and fall into water pipe salesmanship.
You probably remember Ricky Bobby and his teammate Cal Naughton, Jr. from this series of super helpful PSAs they did a few years back. The "wild dogs" segment was especially helpful outside Citi Field.
NATIONAL PRIDE
The Nationals' season isn't going as planned, to the point that the once pompous Davey Johnson has been reduced to antics from horror movies.
The most recent Washington lineup was composed by a ouija board, which you probably remember from that movie you saw about sexy teens being slaughtered by a vengeful spectre who was killed to death for being a murderer or whatever.
The Nationals are probably just resorting to quirky, hilarious tactics to keep things loose, and definitely not plummeting into the depths of insanity.
''I am going crazy,'' Johnson concluded.
--David Brown, Big League Chew
ALL ABOUT THE BENJAMINS
Hey, you all love Ben Roethlisberger, so you'll want to hear that he's making a record-breaking amount of money. The $70 Million+ he's making of his $100 million deal makes him the first player to do so in league history.
And adds to the plethora of reasons to really root for Ben Roethlisberger this season.
What a cool guy.
THIS TIME THEY'E HUNTING THE ZOMBIES
The most important aspect of Hollywood in the modern age is that Danny Trejo keeps getting work, whether it's as "henchman #7," "knife guy," "severed head riding desert tortoise," or a priest in a movie called Zombie Hunter.
Throw in a cast of unknowns, some weird goo, and dubstep - always dubstep - and you've got this.