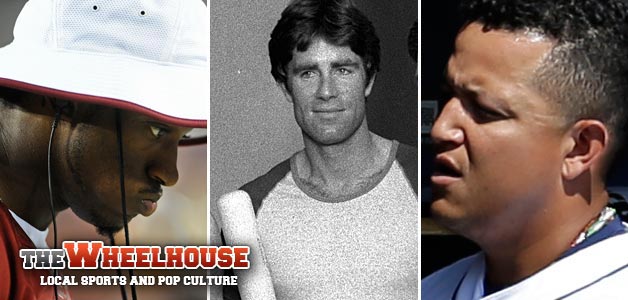 RGIII had some great news last night, and a copywritten prepared graphic to go with it.
Operation Patience....Complete. Cleared. To God Be The Glory http://t.co/GxYMw8Cs57

— Robert Griffin III (@RGIII) August 30, 2013
Meanwhile, Miguel Cabrera's announcement

that we was also okay

and everything is going to be okay seemed a little more… insistent.

This play features a great catch, a burst of speed, the complete stoppage of that speed, and then a second burst of speed, and then a touchdown.
It's hard to believe that Jadeveon Clowney ruined America so entirely with

a not-flawless performance

last night, especially after all that scrutiny and attention he asked for. Isn't that right, guy who is totally unfamiliar with intense analysis and endless examination?
Is Clowney going to rip somebody in half tonight? #Gamecocks #USCvsUNC

— Bryce Harper (@Bharper3407) August 29, 2013
The bad news is, Bryan Cranston has

not signed a ludicrous six picture

deal to play

Lex Luthor. The good news is that James Spader

has

signed on

to play a sinister robot

in the

Avengers

sequel.

It's hard to imagine a pair of tighty-whities having such sentimental value that didn't belong to Walter White, but here we are, spending another Friday morning looking at

Jim Palmer's autographed underwear

. Asking price:

$62.99

.

Yasiel Puig played Tony La Russa in ping pong, and hours later ESPN coincidentally launched an entire ping pong section for their web site, consisting entirely of a recap of the Puig-La Russa match, focusing on the "old school/new school" angle.
Tony La Russa and Yasiel Puig are playing ping pong together right now. The right way, obvs: pic.twitter.com/KcrRPF2u82

— Molly Knight (@molly_knight) August 30, 2013
So suddenly

beating the Marlins

makes you a playoff team.

There's a movie from HBO coming out about Muhammad Ali dodging the draft. Man, when Frank Langella and Christopher Plummer are meeting in dark studies at night and drinking scotch, you know damn well some corruption is definitely going to happen.

Also, hey – don't blink or you'll miss Danny Glover turning around and looking at someone.