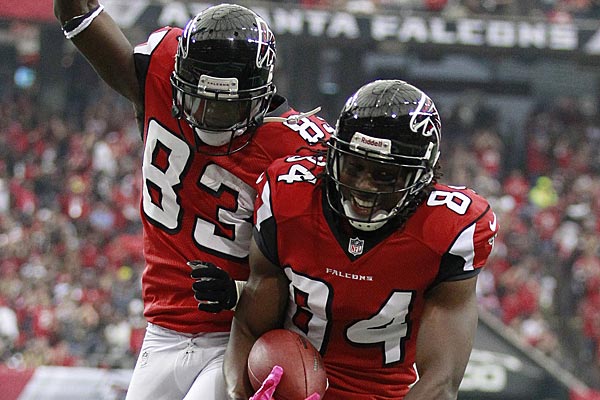 Falcons receivers Harry Douglas (83) and Roddy White (84) celebrate after White's touchdown on Sunday against the Raiders. (John Bazemore/AP)

It was a week marked by collapses in the NFL, highlighted by the West Coast Eagles melting down against Denver on Monday Night Football, just a day after the East Coast Chargers blew a ten-point lead late in the fourth quarter against Detroit. The two big matchups of the week went decisively to the visiting teams, as the Giants shut down the 49ers in San Francisco and the Packers looked like themselves in a blowout win over the previously undefeated Texans.
After six weeks, one undefeated team remains - Atlanta - and only nine teams have winning records. The league's favorite word, money parity, was on full display in Week 6. Let there be no doubt as to who is No. 1, and who is No. 32, though.
1. Atlanta (6-0); Last week: 2
Week 6 result: Won vs. Oakland, 23-20
Matt Ryan threw three first-half interceptions as the Falcons tried their hardest not to remain undefeated, but a pick-six from old friend Asante Samuel and Matt Bryant's late field goal helped move Atlanta to 6-0 heading into their bye week. Next up: Bye
2. Houston (5-1); Last week: 1
Week 6 result: Lost vs. Green Bay, 42-24
The Texans looked like the best team in the league through the first five games, but they ran into the Packers at the wrong time. In their first game without Brian Cushing, Houston allowed some guy named Aaron Rodgers to throw six touchdown passes. The offense didn't provide much help, as Matt Schaub threw two interceptions to go with zero touchdowns, and Arian Foster managed only 29 yards on 17 carries, though he did score twice. Next up: vs. Baltimore
3. New York Giants (4-2); Last week: 8
Week 6 result: Won at San Francisco, 26-3
Traveling to San Francisco, the Giants just continued to be good, moving the ball on the 49ers' defense and reminding Alex Smith that he's not that good. The defense forced Smith into three interceptions and sacked him and backup Colin Kaepernick a combined six times. With the win, the Giants gained sole possession of first place in the NFC East. Next up: vs. Washington

4. San Francisco (4-2); Last week: 3
Week 6 result: Lost vs. New York Giants, 26-3
Speaking of Alex Smith, he was back this week, replacing whoever that guy was wearing his jersey for the first five weeks of the season. The 49ers suffered their worst loss of the season in a game they likely saw as potential vengeance against the Giants team that knocked them out of the playoffs last season. Instead, they barely put up a fight. The offense was so pathetic that they did not make it into the red zone once. Next up: vs. Seattle
5. Baltimore (5-1); Last week: 4
Week 6 result: Win vs. Dallas, 31-29
The Ravens gave up a ton of rushing yards and almost lost. Luckily, they played the Cowboys. Two Ray Rice touchdowns and a dropped two-point conversion pass sealed the win, but the season-ending injuries to Lardarius Webb and Ray Lewis are big blows to a 5-1 team preparing to face the Texans. Next up: at Houston
6. Chicago (4-1); Last week: 6
Week 6 result: Bye
The Bears had the weekend off after a blowout win over the Jaguars in Week 5, in which their defense returned two Blaine Gabbert interceptions for touchdowns. They rank first in the league in rushing yards against and they'll keep moving up in these rankings until the next Jay Cutler implosion. It seems so long ago since we had one. (Miss you, Week 2). Next up: vs. Detroit
7. Green Bay (3-3); Last week: 13
Week 6 result: Won at Houston, 42-24
This team is pretty hard to figure out, but when they are good, they are very good. After beating himself up in the week leading up to Sunday night's game, Aaron Rodgers threw six touchdown passes on the road against what was the AFC's only undefeated team. Jordy Nelson was the main beneficiary, catching nine passes for 121 yards and three touchdowns. Next up: at St. Louis
8. New England (3-3); Last week: 7
Week 6 result: Lost at Seattle, 24-23
The Patriots' loss to the Seahawks just shows how difficult an environment CenturyLink Field in Seattle is for a visiting team. Facing one of the league's best defenses in heavy rain, Tom Brady threw for 395 yards and two touchdowns but also two interceptions in a game that had Seahawks cornerback Richard Sherman asking Brady, "U Mad Bro?" Next up: vs. New York Jets
9. Seattle (4-2); Last week: 18
Week 6 result: Won vs. New England, 24-23
What a defense. Seattle has probably the best homefield advantage in the NFL, and this time they didn't need the refs to pull off the upset of a Super Bowl contender. Russell Wilson threw three touchdown passes, including one to Sidney Rice with 1:18 left that ended up as the winning score. The Seahawks are tied with the Cardinals and 49ers for the NFC West lead. Next up: at San Francisco
10. Denver (3-3); Last week: 14
Week 6 result: Won at San Diego, 35-24
The most stunning comeback of the week featured the Broncos outscoring the Chargers 35-0 in the second half, roaring back from a 24-0 halftime deficit to win. Denver's defense forced Philip Rivers into six turnovers (four interceptions, two fumbles), returning one of each for a touchdown. Peyton Manning completed 13 of 14 passes in the second half for three touchdowns, as the Broncos moved into a first-place tie in the AFC West. Next up: Bye
11. Minnesota (4-2); Last week: 10
Week 6 result: Lost at Washington, 38-26
After having to settle for three short field goals in the first quarter and one in the third, the Vikings could not make up the deficit despite getting the score to 31-26. Despite the loss, Percy Harvin hauled in 11 more passes, giving him an NFL-best 49 receptions for the season. Next up: vs. Arizona
12. Washington (3-3); Last week: 19
Week 6 result: Won vs. Minnesota, 38-26
Robert Griffin III showed no ill effects from his Week 5 concussion against the Vikings, rushing for two touchdowns, including a 76-yard run that effectively put the game away. The Redskins' defense sacked Christian Ponder four times and forced him into two interceptions and a fumble. Next up: at New York Giants
13. Arizona (4-2): Last week: 7
Week 6 result: Lost vs. Buffalo, 19-16
Kevin Kolb was knocked out of the loss to the Bills with a rib injury and will miss several weeks, but not before rushing for 66 yards on five carries, good for second on a Cardinals team with more or less no running backs. Arizona now has lost to St. Louis and Buffalo in consecutive weeks. They're still tied for first in the NFC West. Next up: at Minnesota
14. Pittsburgh (2-3); Last week: 9
Week 6 result: Lost at Tennessee, 26-23
Just when the Steelers thought they had an actual running game, Rashard Mendenhall went and got hurt again. Their defense, without Troy Polamalu and LaMarr Woodley, was unable to keep a Matt Hasselbeck-led attack from beating them. Shawn Suisham did not help by missing a 54-yard field goal late in the fourth quarter. To top it all off, rookie nose tackle Alameda Ta'amu was arrested Sunday on charges including fleeing police, aggravated assault and DUI. Next up: at Cincinnati
15. PHILADELPHIA (3-3); Last week: 11
Week 6 result: Lost vs. Detroit, 26-23
In case you missed it, the Eagles blew a ten-point lead with 5:18 left in the fourth quarter and lost to a bad Detroit team at home. It was something out of 2011. Michael Vick threw two more interceptions to push his turnover total to 11 for the season. In what is being deemed the only decision to cure all that ails them, defensive coordinator Juan Castillo was fired. Next up: Bye
16. Miami (3-3); Last week: 24
Week 6 result: Won vs. St. Louis, 17-14
Ryan Tannehill and the Dolphins continue to exceed expectations in their first season under Joe Philbin. Led largely by a stout front seven and the surprising competence of their rookie quarterback, the Dolphins held Sam Bradford without a touchdown pass while Tannehill threw two of his own to squeak out the win. Amazingly, the Dolphins are in a four-way tie with their AFC East rivals for first in the division. Next up: Bye
17. San Diego (3-3); Last week: 12
Week 6 result: Lost vs. Denver, 35-24
Philip Rivers cost the Chargers their fourth win of the season Monday night, handing the Broncos four interceptions and losing two fumbles in the second half in an horrific collapse. After throwing two touchdown passes to Antonio Gates in the first half and helping stake the Chargers to a 24-0 lead, Rivers' second-half reversal must have given fans flashbacks to Ryan Leaf. About the only positive for the Chargers was the reemergence of Gates, who caught six passes for 81 yards along with the touchdowns. Next up: Bye

18. Cincinnati (3-3); Last week: 17
Week 6 result: Lost at Cleveland, 34-24
With seven catches for 135 yards and two touchdowns, A.J. Green continued to be probably the best wide receiver in the NFL, but the Bengals of course were the first team to lose to a 99-year-old rookie quarterback. Next up: vs. Pittsburgh
19. Dallas (2-3); Last week: 15
Week 6 result: Lost at Baltimore, 31-29
In their first game after that Monday Night Football debacle against Chicago, the Cowboys went toe-to-toe with the Ravens, only to lose in the end. DeMarco Murray left the game with an injured foot, but Felix Jones surprisingly filled in admirably, rushing for 92 yards and a touchdown. Dez Bryant caught two touchdown passes but dropped a two-point conversion that would have likely sent the game into overtime. Classic Dez. Classic Cowboys. Next up: at Carolina
20. Detroit (2-3); Last week: 22
Week 6 result: Won at Philadelphia, 26-23
The 2008 Lions celebrated yesterday with Cleveland's win, as they are guaranteed to remain the only team to go 0-16 for another season. To commemorate, they beat the Eagles. Matthew Stafford looked awful in the first half, but turned it around in the fourth quarter to rally for the win. You know how this one ended. The Lions remain bad in doubling their win total for the season. Next up: at Chicago
21. Buffalo (3-3); Last week: 26
Week 6 result: Won at Arizona, 19-16
Buffalo's defense had their best outing against Kevin Kolb and the offensive-line-challenged Cardinals, generating five sacks, two interceptions, a safety and knocking Kolb out of the game. Fred Jackson and C.J. Spiller each ran for a touchdown, and Rian Lindell's 25-yard field goal in overtime gave the Bills' their third win of the season. Next up: vs. Tennessee
22. New York Jets (3-3); Last week: 21
Week 6 result: Won vs. Indianapolis, 35-9
Shonn Greene led the way for the Jets, almost doubling his rushing production for the season and scoring three touchdowns against the Colts. The Jet's defense held Indy to three field goals and picked off Andrew Luck twice. Next up: at New England
23. St. Louis (3-3); Last week: 16
Week 6 result: Lost at Miami, 17-14
The Rams never got much going against the Dolphins in Miami. Sam Bradford threw for 315 yards but the offense had to settle for five field goals. Unfortunately, rookie Greg Zuerlein missed three of them, including one from 66 yards that would have sent the game into overtime. Next up: vs. Green Bay
24. Tennessee (2-4); Last week: 30
Week 6 result: Win vs. Pittsburgh, 26-23
"Never bet against Matt Hasselbeck at home on a Thursday night." - Anonymous. Seriously, who saw the Titans beating the Steelers, even if they are old, injured and on the road in a short week? Especially since the Titans are ranked last in the NFL in rushing yards, thanks to whoever Chris Johnson says is to blame. Next up: at Buffalo
25. New Orleans (1-4); Last week: 23
Week 6 result: Bye
The Saints got the weekend off after earning their first win of the season, and Drew Brees didn't have the opportunity to break another record with artificially-inflated numbers. They may have Jonathan Vilma back this Sunday as he waits for a ruling on his suspension appeal. Next up: at Tampa Bay

26. Tampa Bay (2-3); Last week: 25
Week 6 result: Win vs. Kansas City, 38-10
Josh Freeman took full advantage of the one game this season in which he'll be considered the superior quarterback. The Buccaneers' defense outscored the Chiefs' offense, 7-3, thanks to a 78-yard interception return by Ronde Barber. Next up: vs. New Orleans
27. Indianapolis (2-3); Last week: 20
Week 6 result: Lost at New York Jets, 35-9
One week after a stunning comeback win over the Packers, the Colts were destroyed by the Jets. Andrew Luck looked like a rookie, the Indianapolis defense let Shonn Greene - Shonn Greene! - run all over them AND they couldn't stop a Tim Tebow-led fake punt conversion. It doesn't get much worse than that. Next up: vs. Browns

28. Oakland (1-4); Last week: 27
Week 6 result: Lost at Atlanta, 23-20
On the road against the NFC's only undefeated team, the Raiders almost pulled off the upset. Unfortunately, Carson Palmer made like Asante Samuel in trying to tackle Samuel en route to a pick-six, undoing a 353-yard passing effort. Next up: vs. Jacksonville
29. Cleveland (1-5); Last week: 32
Week 6 result: Won vs. Cincinnati, 34-24
The Browns got on the board with their first win of the season, snapping an 11-game losing streak dating back to last season. Rookie quarterback Brandon Weeden earned his first NFL win on his 29th birthday. And things are looking up! Joe Banner is the team's new president. Next up: at Indianapolis
30. Carolina (1-4); Last week: 28
Week 6 result: Bye
Cam Newton did not do anything to upset teammates and/or sportswriters this week, as the Panthers were on their bye. Next up: vs. Dallas
31. Jacksonville (1-4); Last week: 31
Week 6 result: Bye
Blaine Gabbert had his best week of the season. In a related note, the Jaguars were on their bye. The team is last in the league in passing yards per game (142.8) and is averaging 13 points per game, also worst in the league. And yet, they're only ranked 31st. Next up: at Oakland
32. Kansas City (1-5); Last week: 29
Week 6 result: Lost at Tampa Bay, 38-10
Employing Brady Quinn as a backup quarterback - to starter Matt Cassel - is a sound #suckforBarkley strategy. As is employing a defense that allows Josh Freeman to throw three touchdowns. This was hilarious, though. Next up: Bye