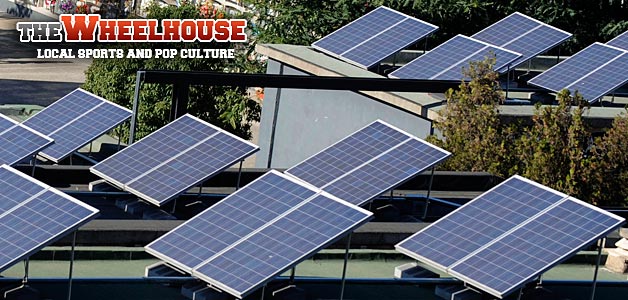 It's mid to late April, which means of course that flash mobs are everywhere Philadelphia is gearing up to celebrate Earth Day.
The Eagles always lead the charge environmentally in this town; during a recent tailgate, I explained to several people that the spinning turbines on top of Lincoln Financial Field were for harnessing wind power, not transforming the stadium into a helicarrier. The Birds head to Gladwyne, PA today for some upkeep at the Riverbend Environmental Education Center.
The Phillies partook in the the Plant One Million tree-planting campaign for the second year in a row. The Phillies are also conserving power by ranking 22nd out of 30 teams in total home runs so far this season.
MLS is installing a $50,000 solar panel facility for the Portland Timbers, whose fans won a write-in contest explaining why their city deserved the project. The Union fans came in 6th.
The Sixers stopped playing basketball.
PERFECTION
We can all remember where we were when Juan Castro cut off the grounder to the left side and threw out the last Marlins runner of the day before Roy Halladay and Chooch embraced on the mound in celebration of 27 flawless innings. It would be revealing to hear Doc's prolonged take on the moment, as his performances are often kept behind a curtain of intense silence.