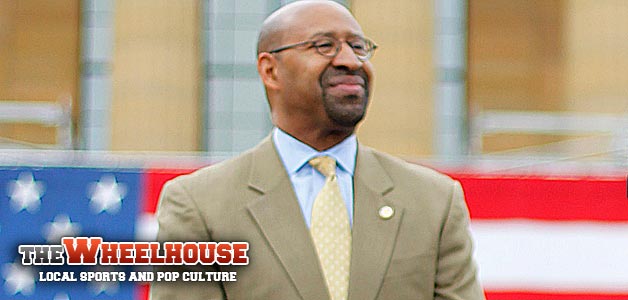 The U.S. Olympic Committee sent out 35 letters to cities considered potential spots for the 2024 games, and Michael Nutter has replied with a resounding "yes."
Hosting the event – it would be the first on American soil since Atlanta in 1996 – would cost a paltry $3 billion. But think of the historical significance, the boost to the local economy, the prison we could build after everybody leaves and we're left with an abandoned ghost town of an Olympic Village…
To get a perspective on the effects of being the world's athletic epicenter for two weeks, there is The Olympic Project, a photography series from two guys who visited former Olympic sites in Athens, Lake Placid, Los Angeles, Montreal, and Mexico City to get images of what occurred after the games (It was Lake Placid where the village had become a prison).
THE KEY IS TO OVERREACT COMPLETELY
Around 9:30 yesterday morning, Phillies' top prospect Jesse Biddle had a message for former teammate Jonathan Pettibone, who was making his first Major League start that night.
Big shout out to @jon_pettibone good luck tonight big dog! Have some fun. #highintheskyapplepiehopes

— Jesse Biddle (@jessebiddle_54) April 22, 2013
Biddle then prepared for his own start for the Reading Fightins, and proceeded to set a franchise record in strikeouts (16), while allowing one hit over seven innings in his first performance at FirstEnergy Stadium.
So we got our first clue as to which minor leaguer may win the 2013 "Darin Ruf Eye-Opener Award."
BATTLE OF THE FIRST NAMES-ONLY
In game two of their playoff series last night, the Grizzlies were hanging onto a tie game in Los Angeles against the Clippers. In a collision of guys with only first names, Tony Allen had Chris Paul covered tightly, but OT seemed anything but imminent.
Especially when the guy on the other team can do this with 0.1 second left.
WE'LL COVER YOU
This Flyers season was a bust, but you know what would completely counteract the frustration? Seeing one of our stars on the cover of a video game.
Only then, knowing they are safe and secure on the front of EA Sports' NHL '14, will allow us to pass the time until next season, worry-fee.
Here is the site on which you can vote for Wayne Simmonds and Jakub Voracek to make their professional video game-covering debuts. Voting, as we know, is our civic duty, and that extends from national and local government, to whose picture we see in the two seconds it takes to tear the plastic off a video game.
Besides, if you knew how painful of an experience it was for these guys to turn on each other, you'd want it to be over as soon as possible.
Please vote for me @easportsNHL 14 cover and help me defeat my brother from another mother @jachobe ...

— Wayne Simmonds (@Simmonds17) April 21, 2013