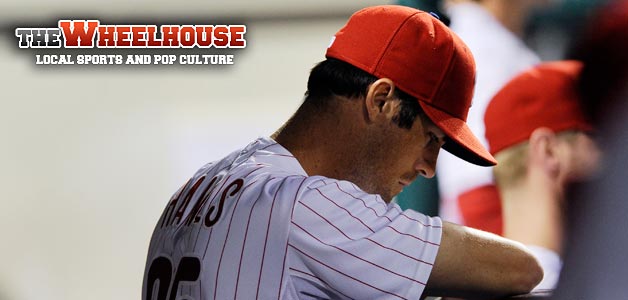 Welcome back from another banner weekend for Philadelphians in the news.
The Phillies were ball-bouncingly bad again last night, allowing the Braves to steamroll them on the way to their 10th win in a row.
On Friday, Yahoo! Sports' Jeff Passan called Jonathan Papelbon an "infant."
And Curt Schilling was inducted into the Wall of Fame, shortly before a 6-4 loss.
Watch live NOW on http://t.co/YqbFjlVeqb: Legends induct Curt Schilling into Phillies Wall of Fame! #AlumniWknd pic.twitter.com/dGDkaM6J7B

— Phillies (@Phillies) August 2, 2013
Yes, it was an Alumni Weekend that no one will want to forget, except for the baseball parts.
NOW HE'S GETTING IT
Matt Garza was recently traded from the dormant Chicao Cubs to the rollicking Texas Rangers, suddenly making his every move those of a playoff contender. Garza got a little excited after a loss in which the Athletics' Eric Sogard sac-bunted for an RBI and went after Sogard's wife on Twitter for some reason.
Sunday, despite loving Gatza's "playing and pitching and the fire and passion," the A's thought it would be best if Garza apologized for his sexist remarks, then maybe got off Twitter forever.
NOBODY WORRY ABOUT HIM
It was a harrowing scene at No. 13 at the Bridgestone Invitational this weekend, as Tiger Woods was set upon by what a pair of skilled announcers called an "itinerant squirrel," without making an Caddyshack references, which I couldn't even avoid in a one-sentence recap of the incident.
REVENGE OF THE KNOWLEDGATOR
Jeopardy! Ended in heartbreak for someone for the 9,000th time in a row a few days ago, with the chief difference between the two losers and most of those who came before them was that they were children.
One child is especially broken up about losing, having given the correct response to Final Jeopardy, but spelling "emancipation" wrong.
Not willing to let things go, the kid has said in an interview that he was "cheated," meaning we are quite possibly watching the real life origin story of a game show/knowledge-themed super villain.
NOT A SECRET ANYMORE
And it looks like we're finally getting a "Secret Life of Walter Mitty" movie, which is exciting if only because apparently Adam Scott will be playing a bearded, relentless bully again.