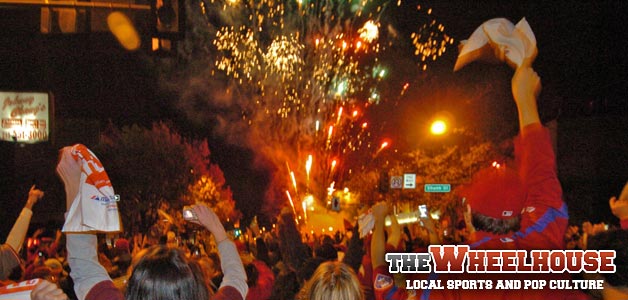 The Phillies have won five of their last six contests on Independence Day; traditionally, they spend the afternoon pounding the Mets. In 2008, 2009, and 2012, they're 3-0 against the Mets on July 4, outscoring them 16-5 before settling in to watch some fireworks. In 2012, it was Cliff Lee's first win of the season!
They've slipped past the Padres in 2006 and the Marlins in 2011. In fact, their one recent July 4 loss came against the… the Pirates. At PNC Park.
So that's not foreboding at all.
Happy 4th of July! pic.twitter.com/c6eG4J6NVu

— Phillies (@Phillies) July 4, 2013
Also not foreboding:
Tommy Joseph: 0-6 with 4K's last night

— Phuture Phillies (@PhuturePhilz) July 4, 2013
INDEPENDENCE TODAY
A lot of people are going to be posting Bill Pullman's speech from Independence Day because it is Independence Day today and that's just a clever little internet thing we get to do.
So here's everything wrong with Independence Day, and the knowledge that we'll get to re-live it all on July 3, 2015.
THEN HE STRUCK OUT FIVE GUYS IN A ROW
It's fair to see why Jake Diekman was so distracted he threw a run-scoring wild pitch last night.
Furries in the building!! #TakingOver pic.twitter.com/MncGaFa91I

— Jake Diekman (@JakeDiekman) July 3, 2013
'FIREWORKS,' I GUESS?
You're going to want context for this, and you're not going to get it. It's just great.
[h/t thealessandroshow]
BIRTH OF THE DOUBLE CLICK
The guy who invented computer mice, Douglas Engelbart, passed away today. Not only did he give us a device for more precise aiming during FPS games, but he actually set up an organization with the sole purpose of discovering the planet's most complex technological problems and just... solving them.
Listen to Murphy Brown explain the composition of the first mouse.
Stay safe out there, people.