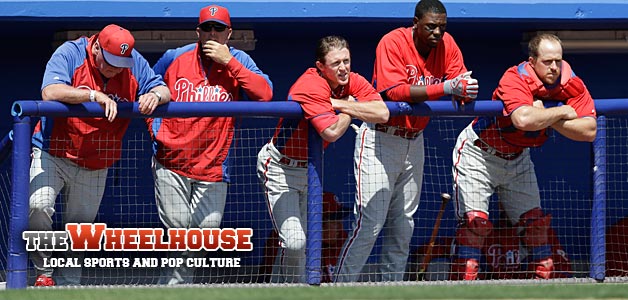 This afternoon will be the final game of the Phillies' 2013 Clearwater Experience, as they pack up and head home for a pair of exhibition games with the Blue Jays at Citizens Bank Park. Tickets are cheap, but the games are meaningless, prompting some tough questions from the true fans.
Reasons to go: Chooch, I kinda want a hot dog.Reasons not to go: waking up early on Sat, pointless, I probably don't need the hot dog.

— Jess (@ilovechooch) March 26, 2013
With the season all but underway, it's time to start guessing how many Phillies wins we'll actually witness this year. The Phillies are projected to win as few as 81.5 games and as many as 90. The other day, PECOTA ranked them finishing lower than the Mets in the NL East, meaning that without even playing a game, the Phillies are finding a way to get worse.
TURN OFF THE HEAT
The Miami Heat finally lost a game last night, 100-85 to the Chicago Bulls in Chicacgo, prompting the world to wonder, what went wrong?
Well, the answer is, not very much , because the Heat just went 27-1 over their last 28 games. They win pretty much just because they want to and that combination of talent and will power helped them secure the second longest consecutive win streak in NBA history.
Sure, the concept of young billionaires gallivanting around the country, playing a game and choosing to be on the same team as their pals in order to automatically win championships is downright maddening, or frightening, but at least we all know how to act like adults about it, and I'm sure Lebron only blames himself for the loss.
Besides, the Heat's next scheduled game is against the New Orleans Hornets, and will most likely spark yet another legendary streak of resentful dominance.
IT'S ALL FOR YOU
The Sixers would like you to know that they appreciate you. Look at them out there, blowing an 18-point lead. FOR YOU. And then they come back from that devastating lapse to win, for you remember, just like they haven't many times before.
Sixers Fan Appreciation game tonight vs. Bucks. Some 1000 prizes being given out plus 5000 Moe's burritos and all fans get 76ers LED light.

— Adam Aron (@SixersCEOAdam) March 27, 2013
Who could complain about a team appreciating them and wanting to give them free stuff? Besides, this is the team that gave you Jrue Holiday at the All-Star Game and Spencer Hawes figuring it all out in time to save the season rebound more than once a game.
WUSHOCKING
La Salle plays their Sweet 16 match-up tonight in Los Angeles, giving us precious little time to familiarize ourselves with their opponent, Wichita State - specifically, their mascot, who is not Tim Tebow - it is WuShock, a snarling shock of wheat with a face who has spent only slightly less time at quarterback for the New York Jets than Tim Tebow.
Wichita State students can confidently agree that WuShock is "yellow."