There have been some positives in this otherwise dreadful Phillies season. Domonic Brown and Darin Ruf's bats for instance. But, for the most part, it's been pretty, shall we say, crappy.
Let's recap:
- The team currently holds a 53-65 record on the season and has gone 5-17 since the All-Star break.
- They're currently 18 1/2 games back in the NL East, which puts them in fourth place.
- It wasn't until Monday night that Cole Hamels picked up his fifth (FIFTH!) win of the season.
- Ryan Howard, Roy Halladay and Mike Adams have all missed big chunks of the season due to injuries.
- Antonio Bastardo (really?) accepted a 50-game suspension after being linked to the Biogenesis scandal.
- Jonathan Papelbon "didn't come here for this."
- Laynce Nix and Delmon Young. (No explanation necessary.)
There are plenty of other missteps along the way, but you get the point. It hasn't been fun to watch.
Now it seems the Phillies' advertisements are capturing the crappiness of the 2013 season.
Our pal Zoo With Roy was sent a funny screen grab of a ticket promotion for the team's upcoming homestand against the Dodgers, Rockies and Diamondbacks.
Check it out below: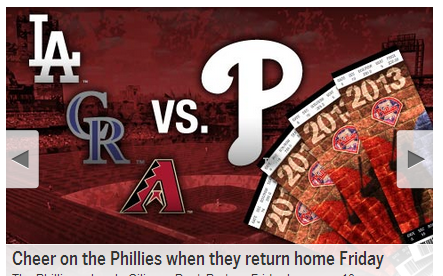 LA CRAP!