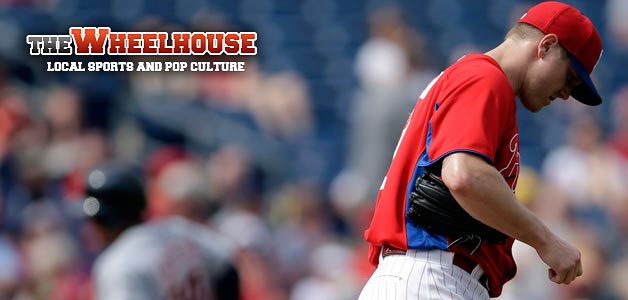 Ryan Howard is back, and he is hitting lefties. The Phillies' slugger proved his numbers against southpaw pitching were not just a one-game anomaly by maintaining them into a second game yesterday off lefty Drew Smyly, notching a single and a sac fly.. It was a great sign from a guy most were hoping would just be able to walk.
Cliff Lee also looked great, and he looked even better by comparison after the bullpen was finished getting 10-runned by the Tigers. Jonathan Papelbon's spring debut was marred by a six-run inning, in which defending American League MVP Miguel Cabrera shelled the Bright House Field tiki bar with this 440-ft. failure on Papelbon's part.
Of course, after a mere two games, any conclusions reached at this point would be frantic and reactionary, so maybe we should just relax and have a drink. As soon as the home run balls stop falling.
ENDANGERED BIRDS
The Eagles started crossing names off their list yesterday, and if the 2012-13 season was any indication, there are going to be a few more.
At the moment, defensive lineman Cullen Jenkins and Mike Patterson have been the only casualties, with many expecting Nnamdi Asomugha to not be too far behind. His contract is not as full of the same escape clauses as Michael Vick's, so negotiations to "restructure" (read: financially punish) his deal may not be as amicable. At least, as amicable as negotiations get after a 4-12 season.
So, that's a total of $8 million the Eagles aren't paying ineffective defensive tackles, a number that will assuredly - and correctly - keep growing.
THE NEXT GREAT OBSESSION
Okay, let's all take deep breaths, calm down, and let Jennifer Lawrence get settled in before the onslaught of desktop backgrounds and Facebook quotes solidifies her place as the Most Popular American for the next few weeks.
Since her Oscar win Sunday, the nation is learning just how not only talented Lawrence is but how charming and charismatic she is as well. First, the fall up the stairs, then the post-Oscar interview, and now even Jack Nicholson is smitten.
We're digging up her earliest work, admiring her relationships, expecting her to sign on to everything, and maybe we should just give her some space before this whole A-list, magazine cover, paparazzi thing intensifies,
We just tend to get a little clingy in this situation, is all. Maybe let breathe for a second. And not just because I want my letters to reach her first.
FRESH FISH
As we circle back around to baseball - a wise decision, given Philadelphia's current temperament - let us recall that while half of MLB's teams are fortunate to have a place like Florida to warm up for the year, some are unfortunate enough to never get to leave.
The Marlins are one such team, and enter 2013 with lower expectations than any other NL East competitor. For good reason; their team is run by Jeffrey Loria, an owner whose public image is that of a bumbling, conniving millionaire whose favorite franchise is himself.
Loria recently had the chance to reply to allegations that he is basically horrible, and answered that not only was he trying to do the right thing, but he's digging in for the long haul. If there is anything that can smooth over rumors of corruption and greed, it's a letter blaming everyone else.
Loria's actions and words have turned those few interested in Marlins baseball fervently against him, their focus exceptionally singular:
— #BoycottLoria (@BoycottLoria) February 26, 2013