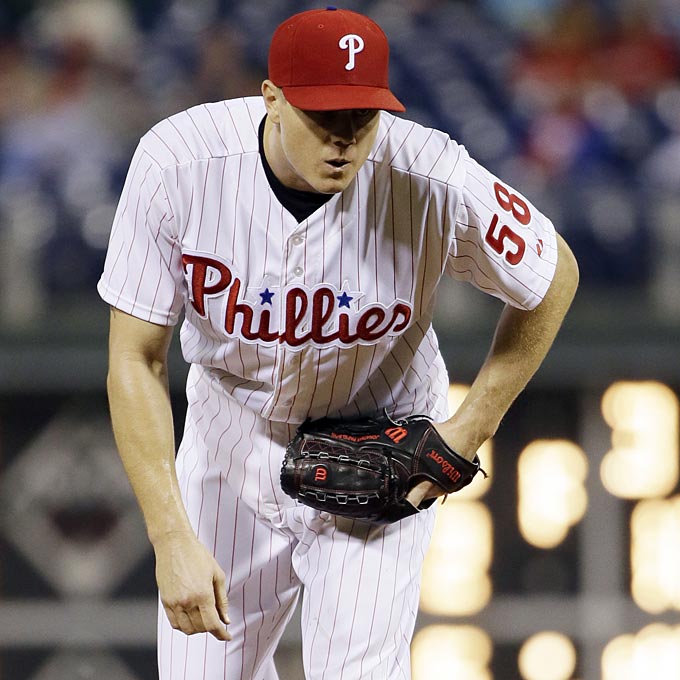 For a guy with a death stare like this, Phillies closer Jonathan Papelbon has plenty of fears.
First, he told us his fear of being in crowds of fans in the wake of the Boston Marathon bombing, adding that he thought Barack Obama was going to take all his guns.
Recently, he was fundamentally scared of the defense playing behind him.
Now, he's worried a young whipper-snapper - whose name he can't properly pronounce - may steal a spot on the All-Star roster from fellow declining veterans.
Dodgers' rookie sensation Yasiel Puig, however, deserves a spot in the All-Star Game, especially considering the historic nature of his first month in the big leagues.
Not according to Papelbon, who said in an interview on MLB Network Radio that it would "a joke" for the 22-year-old Cuban with less than 30 games under his belt to make the team - despite the fact that he's hitting .436 with a 1.180 OPS.
"To me, it's an absolute joke. It's really kind of stupid if you ask me. The guy's got a month, I don't even think he's got a month in the big leagues, and just comparing him to this and that, and saying he's going to make the all-star team, that's a joke to me. It's just really what happens in baseball when… to me it really does an injustice to the veteran players that have been in the game for eight, nine, ten plus years, and it kind of does them an injustice because they've worked so hard to stay there."
- Jonathan Papelbon

Sure it's only 101 at-bats, but this isn't Hall-of-Fame voting. Voting should be based on who is the best right now, not who has better career numbers. If a player has steadily declined year after year, shouldn't continually get voted in because of all-star level performances in the past.
Geez, I can't imagine why Papelbon feels this way...
He's only blown four saves in his last six appearances and seen his ERA jump from 1.46 to 2.05.
Anyway, consider this when it comes to Puig: The next closest player in the National League (with at least 100 ABs) is Troy Tulowitzki, who is hitting .347 with a 1.048 OPS in 202 ABs. He's first in All-Star voting among NL shortstops.
Next in line is Yadier Molina. He's hitting .345 in 290 ABs, and is - shockingly - leading NL catchers in the voting.
Both Tulo and Molina deserve to be there, but Puig hasn't even cracked the top 15 for outfielders (probably because he wasn't in the league yet when the ballots were printed).
1. Carlos Beltran, Cardinals: 3,473,030
2. Carlos Gonzalez, Rockies: 2,928,606
3. Justin Upton, Braves: 2,917,659
4. Bryce Harper, Nationals: 2,902,393
5. Matt Holliday, Cardinals: 2,697,608
6. Andrew McCutchen, Pirates: 2,510,614
7. Hunter Pence, Giants: 2,379,606
8. Ryan Braun, Brewers: 2,331,774
9. Angel Pagan, Giants: 2,016,370
10. Shin-Soo Choo, Reds: 1,960,385
11. Jon Jay, Cardinals: 1,825,513
12. Carlos Gomez, Brewers: 1,746,318
13. Gregor Blanco, Giants: 1,717,194
14. Jay Bruce, Reds: 1,454,721
15. Domonic Brown, Phillies: 1,427,696
Look at these names. Tell me Puig doesn't deserve to be there. Go ahead.
Here's the audio from Papelbon's interview: