"I KNEW IT! I ALWAYS KNEW NICK FOLES WAS THE SORT OF QUARTERBACK WHO COULD THROW THE LEAGUE RECORD FOR TOUCHDOWNS IN A SINGLE GAME!" screamed Philadelphia-area liars Monday morning.
+ Zach Ertz was so thrilled by Foles' performance and his own touchdown catch that his political views shifted dramatically.
Nick Foles for President

— Zach Ertz (@ZERTZ_86) November 4, 2013
Of course, being an away game, not everyone was super pleased by Foles' seven touchdown performance.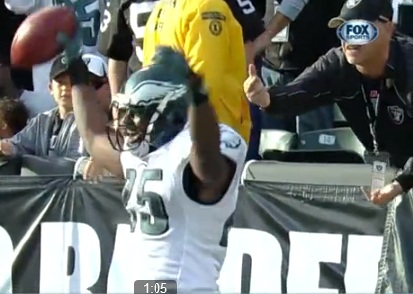 + The Packers have managed to keep winning, despite the lack of all of their receivers except for Jordy Nelson and a cheerleading squad. Aaron Rodgers addressed the more critical of the two.
+ The Canucks' Kevin Bieska is so bad-ass, he doesn't rip his own teeth out on the bench; he sharpens them on his stick.
+ Reggie Jackson would prefer it if "Mr. October" could be just his nickname, not the title bestowed upon David Ortiz or whoever catches fire in the playoffs next season.
+ Tom Brady was in a good mood Sunday.
+ You don't get the franchise tag as a punter if you're not able to recover a botched long snap, run around frantically, then punt the ball from 20 yard line to 20 yard line on the run.