NHL Power Rankings: Inconsistent Philadelphia Flyers fall to No. 17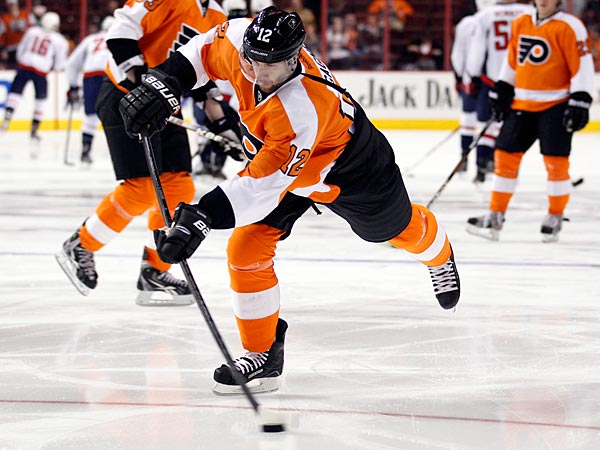 This post-lockout shortened season is definitely shaping up to be a strange one.
NHL Power Rankings: Inconsistent Philadelphia Flyers fall to No. 17

This post-lockout shortened season is definitely shaping up to be a strange one.
The Chicago Blackhawks remained the most dominant team in the league, while the Columbus Blue Jackets stayed the worst. Despite being hit with injuries, the Ottawa Senators have surprised everyone and continue to pile up the victories.
The Toronto Maple Leafs are also enjoying unexpected success as they continue to climb the rankings. If the playoffs were to start right now the Leafs would be in for the first time since the 2003-2004 season.
1. Chicago Blackhawks (16-0-3) Last week: 1
The Blackhawks set a league record by tallying points in 19 consecutive games. They still have not lost a game in regulation.
2. Anaheim Ducks (14-3-1) Last week: 2
The Ducks were on a six-game win streak but the Kings ended it on Monday, winning 5-2. Despite the loss, the Ducks still seem like the team poised to go head-to-head against the Blackhawks in the Western Conference final.
3. Boston Bruins (12-2-2) Last week: 6
Despite a flu-like Illness sweeping through the locker room, the Bruins won three games last week to increase their win streak to four.
4. Pittsburgh Penguins (14-7-0) Last week: 3
The Pens rebounded from a 6-5 loss to the Flyers with a pair of victories behind high-scoring duo Sidney Crosby and James Neal.
5. Montreal Canadiens (12-4-3) Last week: 4
The Canadiens' win streak was stopped by the Isles, 4-3, on Thursday in overtime, but Montreal redeemed itself behind goaltender Carey Price in a 3-0 victory over the Rangers Saturday night.
6. Ottawa Senators (12-6-2) Last week: 7
The injury-prone Senators managed to win all three of their games last week but had to fight hard as two of them came via the shootout.
7. New Jersey Devils (10-5-4) Last week: 5
The Devils dropped two out of three to fall in the rankings again. They may run into more trouble this week while aging goalie Marty Brodeur is on the injury reserve list with a back injury.
8. Vancouver Canucks (10-5-4) Last week: 9
Canucks goaltender Roberto Luongo really let the team down on Sunday against the Red Wings when he allowed eight goals in an 8-3 drubbing.
9. San Jose Sharks (9-6-3) Last week: 8
The Sharks lost two out of three, but Patrick Marleau (12 goals) continues to find the back of the net.
10. St. Louis Blues (10-6-2) Last week: 11
The Blues played just twice last week but picked up three out of a possible four points.
11. Toronto Maple Leafs (12-9-0) Last week: 13
The Leafs continue to climb with two more wins. If James Van Riemsdyk continues to be a top goal scorer and the Leafs remain consistent, they will have a spot in the playoffs.
12. Nashville Predators (9-7-5) Last week: 10
The Predators fell twice in shootouts to fall out of the Top 10.
13. Dallas Stars (10-8-2) Last week: 17
The Stars jump four spots after a 3-1 week. Dallas acquired sniper Erik Cole in a Tuesday trade with the Habs.
14. Carolina Hurricanes (9-8-1) Last week: 12
The Hurricanes, who lost three games last week, are struggling without Jeff Skinner. But Skinner has starting skating with the team again.
15. Detroit Red Wings (9-8-3) Last week: 18
The Red Wings are starting to get it together, routing the Predators (4-0) and Canucks (8-3) on successive days last week.
16. Tampa Bay Lightning (9-9-1) Last week: 14
Despite Steven Stamkos' 14 goals, the Lightning continue to be a middle of the road team.
17. Philadelphia Flyers (10-11-1) Last week: 16
Inconsistency continues to plague the Flyers. They lost two more games last week and the organization showed its desperation by re-acquiring Simon Gagne from the Kings for a conditional fourth round draft pick on Tuesday.

18. New York Rangers (8-8-2) Last week: 15
The Rangers are really struggling this season. It doesn't help that Rick Nash has an undisclosed injury and they dropped four games in his absence.
19. Phoenix Coyotes (9-7-3) Last week: 19
Phoenix went 1-2 last week leading some in the media to call for the trade of Keith Yandle.
20. Minnesota Wild (9-7-2) Last week: 20
The Wild stay consistent, logging a pair of wins thanks to the play of Zach Parise and Matt Cullen.
21. Los Angeles Kings (10-6-2) Last week: 22
The Kings ended the Ducks' streak on with a 5-2 win on Monday. Goaltender Jonathan Quick finally looks like he's coming out of his Stanley Cup hangover.
22. Winnipeg Jets (9-9-1) Last week: 24
The Jets move up after winning four of five on the road, losing only to the Flyers.
23. New York Islanders (8-11-1) Last week: 25
The Islanders split their four games last week behind Matt Moulson and John Tavares who continue to impress.
24. Edmonton Oilers (7-7-4) Last week: 21
The Oilers are in a 1-3 funk, with their only win coming against the Coyotes in a shootout.
25. Calgary Flames (7-7-4) Last week: 27
The Flames move up two spots with a pair of wins. They earned a well-deserved point on Tuesday in a 2-1 OT loss to the Wild.
26. Colorado Avalanche (7-8-3) Last week: 23
Colorado's problem is that it can't finish a game. The Avs forced overtime against both the Ducks and Sharks, but fell both times.
27. Florida Panthers (6-9-4) Last week: 29
The Panthers took a split this week, but were really impressive on Tuesday when they defeated the Penguins, 6-4, behind Tomas Kopecky's first career hat trick.
28. Washington Capitals (7-11-1) Last week: 28
The Caps continue to play without any urgency. Goaltender Braden Holtby seems to be the only silver lining on the Caps' gray cloud of a season.
29. Buffalo Sabres (7-12-1) Last week: 26
The Sabres have been even worse since firing head coach Lindy Ruff last week. The Islanders embarrassed them on Saturday when they lost 4-0. The Sabres did manage to beat the Lightning, 2-1, on Tuesday, but are still dead last in the Eastern Conference.
30. Columbus Blue Jackets (5-12-3) Last week: 30
The Blue Jackets had potential to get out of the power rankings cellar, but the season continued. And so did the losses.