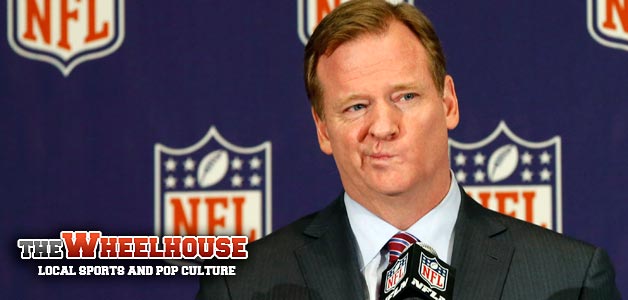 The NFL owners meetings in Phoenix have already had certain highlights - Roger Goodell's 90-minute "How are we doing, where are we going as a buisiness" presentation was especially engrossing. But these are more than mere lectures on health, safety, and sex; they offer a chance to bump into old friends.
BTW-seven Philly media member around Andy Reid's table, zero here from KC.

— Geoff Mosher (@GeoffMosherCSN) March 19, 2013
Yes, Andy Reid is in Phoenix as well, showing off his new laid back style. Yesterday, in fact, was Reid's birthday. But at least he got to spend it with close family and frie--oh.
Today's Andy Reid's birthday. Has to spend it eating breakfast with Philly media: twitter.com/willbrinson/st…

— Will Brinson (@willbrinson) March 19, 2013
Meanwhile, if the Eagles could start focusing on what's most important, that'd be great.
EAT UP
While taking in a game at Citizens Bank Park this year, the Phillies may inspire you to wander down to Ashburn Alley and pick up that old ballpark favorite, a bag of donuts. Whether that bag of donuts is out of celebration for another awesome Phillies win or because they taste better than our feelings remains to be seen.
The point is, Federal Donuts is making either scenario a possibility.
The Phillies tantalized a select facet of the media yesterday when they unveiled a gallery of new concession items in the form of hot donuts, gluten-free cheesesteaks, hickory-smoked pork, and the Chicago Dog.
At Citizens Bank Park for the menu preview and what should I see? Looks and smells like @federaldonuts to me. twitter.com/foobooz/status…

— Foobooz Philadelphia (@foobooz) March 19, 2013
Alley Brewing Company has also set up shop in right, where they will be churning out Victory's own Alley Brewing Company Lager as quickly as you can hand over $12 or or your season tickets or whatever the customary price of a ballpark beer is in 2013.
BOMBING RUN
Several of the Phillies continued their stimulating spring campaigns yesterday, including Ryan Howard, who clobbered his fifth home run, and Dom Brown, who did similar violent things to his sixth.
The duo is hitting .317 and .397 respectively, creating a stir of excitement not seen in this camp since it was announced Chase Utley and his knees were back on speaking terms.
Brown has already been tabbed as a potential breakout star in 2013, putting the Phillies' global talent search on hold for the time being. Though as we can see below, it was going pretty great.
MARCH GLADNESS
Philadelphia is gearing up to host three double-headers of NCAA March Madness, starting on Friday - you can get your seat at the Wells Fargo Center right here for a mere $200+. Before you balk at the price, consider the amount of money these games will put into the local economy.
"Eight to ten million dollars," according to the head of the Philadelphia Sports Congress.
That may not put the hundreds of dollars you need for a ticket into your checking account, but it is making downtown restaurateurs' pupils turn into dollar signs. As the simmering pandemonium intensifies, brackets are being filled in everywhere from the Shops at Liberty Place to Craig Sager's tie.
The WFC will even boast a potential Duke-Georgetown match-up; a contest that has attracted federal attention in the past.