There are only four teams left hanging around the Wells Fargo Center now, but this is Philadelphia, where if you're within our borders, we will compare you to the things we love.
Thus, this bracket of the remaining college's mascots and our beloved hometown icons.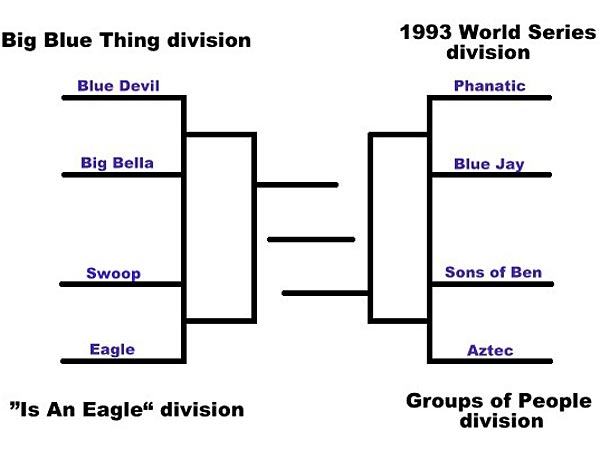 "IS AN EAGLE" DIVISION
Swoop vs. Florida Gulf Coast University Eagle

The Florida Gulf Coast Eagles just have that "team of destiny" cred right now: they're players seem fearless, unintimidated, yet highly respectful of the limelight. When Brett Comer dropped the hammer last night, they loudly proclaimed their Cinderella story had a sequel.
Meanwhile, as something related to the Philadelphia Eagles, Swoop seems destined to ruin himself somehow.
Pick: Eagle
GROUPS OF PEOPLE DIVISION
San Diego State Aztec vs. Sons of Ben
The Aztecs were an incredibly impressive historical body, assembling monuments, armies, and their enemies' blood with slick precision and consistency. San Diego State has used the same wily craftiness to get a tournament berth, and relies so much on your overlooking them to succeed that they sort of want you to do it.
The Sons of Ben, however, are an actual group of people, rather than one man in a costume meant to represent a basketball team. Also they are united under the abrasive banner of "soccer fandom" so they could pretty easily lay a beat down on one dude in an Aztec get-up.
Pick: Sons of Ben
1993 WORLD SERIES DIVISION
Phillie Phanatic vs. Creighton Blue Jay
There is not a more popular creature in the city, and usually the country, unless you're purposefully picking against him to count on the vitiriol of Philly fans to spike your page views. The Phanatic is everything that is right with the world; fun, colorful, often dancing, hating other teams, and tried to get David Wright arrested. He appeals to everyone while maintaining the spirit of his team and his town.
But as we learned in this division's namesake, everything that seems right with the world can be obliterated in one devastating instant.
Fortunately, there is no Joe Carter on this Blue Jay roster.
Pick: Phanatic
BIG BLUE THING DIVISION
Duke Blue Devil vs. Big Bella, the Sixers' Enormous T-shirt Cannon
You can't beat fire power when it comes to Bella. I'd like to see a lame devil take a guy's head off with some rolled-up Sixers memorabilia going 900 mph.
But of course, the Blue Devil hails from Duke, where everything just seems to work out for the best, unless it's the first round of the NCAA torunament last year, or J.J Redick's poetry. As long as the Bue Devil stays out of range, Bella does not have the agility to take him down.
Pick: Blue Devil
UPDATE:
Through a combination of deep thought, fan polling, and blatant favoritism, this is your final bracket:
Those FGCU Eagles are on a tear, but nothing beats the Phanatic on his hometown turf.