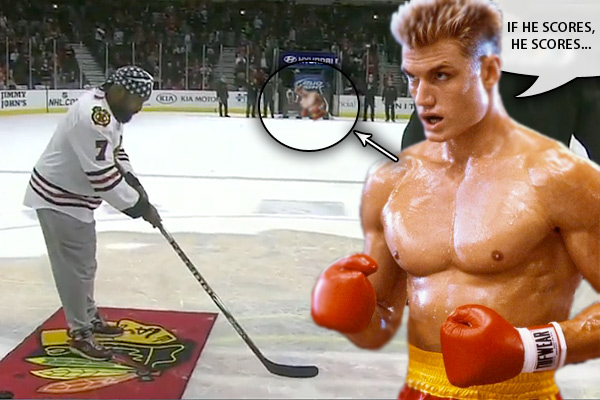 Mr. T has a long and storied career in Chicago sports; not like in Philly, where he has traditionally taken on a more antagonistic role.
He's not playing or affecting them in many ways, but when it comes to being near Chicago sports, Mr. T is a staple to the community. He's been floored by the arm of Bo Jackson and sung "Take Me Out to the Ball Game" at Wrigley, but last night at the United Center, he solidified his legacy.
With two misses from center ice already, it was down to the wire for Mr. T, who knew that his status and pride hung in the balance. Many cast off the final shot as a lost cause, returning to their smart phones and $11 beers for entertainment.
And then...
"I'm going home!" he shouts immediately, knowing he can't possibly top himself now.
Last night in Chicago, Mr. T took his own advice: Be somebody.