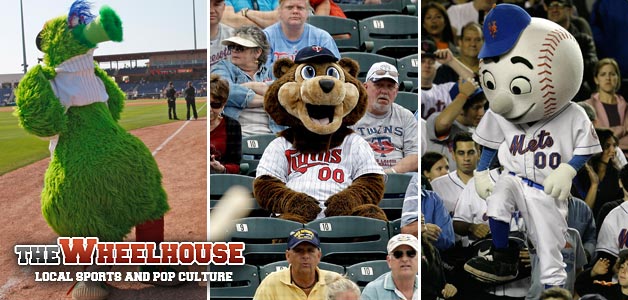 The baseball mascot game is a harsh racket. Sure, it may look like they're living it up at a child's party or groundbreaking ceremony, but it turns out the reason they pull from an endless reservoir of sheer joy is that they're making a cool $600 an hour for public appearances.
Bernie Brewer makes about a third of that. And the Diamondbacks newest mascot looks like he really had to pinch pennies on a costume.
The @Dbacks have introduced the D-backs Luchador (@DbacksLuchador) as an official mascot of the team. pic.twitter.com/ZqRBwHaAJY

— MLB (@MLB) July 18, 2013
GO ON...
Zac Rinaldo has a very important message for you.
Flyers

— Zac Rinaldo (@RinaldoZac) July 18, 2013
That is all.
SMOKE 'UM IF YOU CAN SURVIVE 'UM
Chris Johnson is so confident in the Titans winning the Super Bowl, some day, that he bought a SCUD missile full of tobacco and plans to smoke it while basking in victory.
Chris Johnson will, apparently, light up this GINORMOUS cigar if Titans win the #SuperBowl (http://t.co/WaVv1xsmTr) pic.twitter.com/NF6VEebass

— FOX Sports: NFL (@NFLONFOX) July 18, 2013
Looks like Johnson's plan is nearing completion:
Purchase comically large cigar

????????
Win sports championship
TIM TEBOW TO THE RESCUE
Honestly, if you haven't removed former Patriots tight end and current murder suspect Aaron Hernandez from your product line yet, you are taking way, way too long to do so.
Panini, a company that manufactures trading cards and sticker books, will NOT be publishing an Aaron Hernandez sticker this season.
Anyone who finds the randomly selected Hernandez sticker in their book gets to go exchange it for a Tim Tebow one, making yet another event that requires people to go and exchange Hernandez for something.
Before this summer, I bet you never thought Aaron Hernandez would effect the gas levels in your car.
NICE GUY
Phillies catching prospect Tommy Joseph 1. Found an awesome t-shirt and 2. Is just letting you know where you can pick it up.
If anyone wants this awesome shirt the place to get it is from @Barstool_Sports pic.twitter.com/z1cSkS707L

— Tommy Joseph (@_TommyJoseph_) July 18, 2013