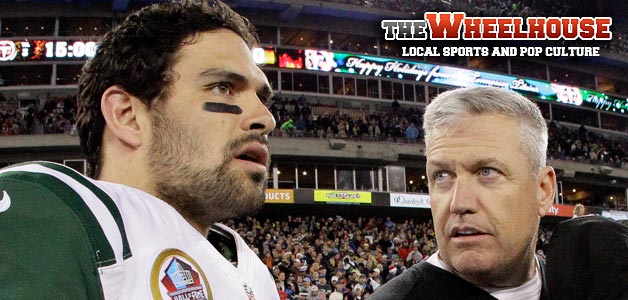 Mark Sanchez came out to a sea of boos in the Jets' first scrimmage of the preseason, an incident which defensive back Antonio Cromartie poetically referred to as "bullcrap."
But now Rex Ryan is entering the fray, defending his quarterback, and in general, probably making things worse for people.
"Our fans have a right to do anything -- I'm not going to say I'm disappointed with the fans -- but I think we need to move forward," Ryan said.
'Moving forward,' however, is always harder than it seems.
Ryan continued, "Let's focus on what we have in front of us."
NEW GUYS
It was a gorgeous summer day when a couple of news guys showed up at the court…
DINGUS PREVENTION SYSTEM
Remember the dingus who ran onto the field at the All-Star Game? Remember how the several seconds of attention followed by a year in prison was totally worth it?
Well, Twitter gave birth to yet another attention-seeking clown, reeking of desperation last night at the White Sox game in Chicago, only this time, the guy got the number of retweets he requested (1,500), then immediately backed out.
A wise move, made even wiser by this sole voice of reason in the frantic jackassery of Twitter.
If you don't go through with this @kingodonoghue, I will make sure you can get to tomorrow's game on me. It isn't worth it my friend.

— Night Train Veeck (@VeeckAsInWreck) August 6, 2013
GREEN TEAM
Vince Young has secured employment as a professional football player for a new year. The former "LeBron James" of Texas football impressed the Packers enough during a workout that he was made a part of the defending NFC North champion squad.
Everybody will have a 'dream team' joke to throw onto the fire, sure. But as the fake Oprah Twitter account that Young retweeted a few days ago says,
Do not let the shadows of your past darken the doorstep of your future. Forgive and forget.

— Oprah World (@Oprah_World) August 4, 2013
*sigh*
You're the best, Fake Oprah.
HE'S NOT VERY GROUNDED
I'm not sure the tutorial for this move came in the bike manual.