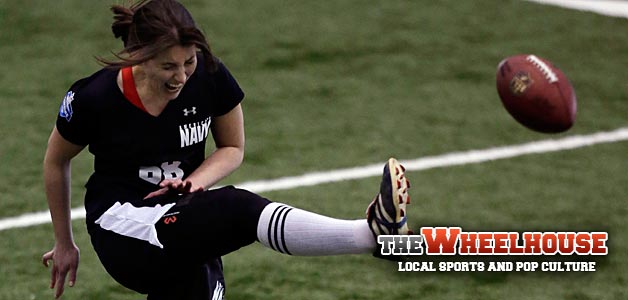 It was supposed to be an important day for the NFL regional Combine, as the first woman to every tryout punted her way into the history books. But at the Jets' Florham Park, NJ training facility this weekend, kicker and former club soccer player Lauren Silberman couldn't get the lift she needed, and wound up re-aggravating a quadriceps injury before leaving early.
Sadly, her poor showing has been cited as a "publicity stunt" by some, as accusations have surfaced saying Silberman did not arrive "physically or mentally prepared" for an NFL tryout. Other Combine attendees reported that she actually came to them to ask how to approach the ball.
A confusing end to an inspiring story. However, by receiving fanfare just for showing up, followed by a lackluster talent showcase, Silberman seems a great fit for the Eagles' special teams.
RUF STUFF
If you look at the Phillies' top prospect lists of the past few years, Darin Ruf is not on any of them. That did not stop the Phillies from inviting the first baseman - who has never played higher than Double-A ball - to this year's spring training, where they are attempting to play him in the outfield.
Darin is not yet having a terrific spring, but it would be pretty tough to keep up with Dom Brown and Ryan Howard right now. The former top prospect and recovering first baseman, respectfully, seem to be suffering from an inability to miss the ball. Their resurgence has been noticed by the architect of the 2008 Phillies, Pat Gillick, who recently said despite the overwhelming majority of detractors, this Phillies core is still capable of going places.
Good places, he means.
PHILMADELPHIA
Philly is renown for its cultivation of raw acting talent, like Bradley Cooper or John Wilkes Booth. The sports scene is known for its fiery dramatics and distinct narratives. It's no surprise that filmmakers in the past few years have found the area so watchable.
First there was Mark Wahlberg in Invincible, telling the story of the Eagles' Vince Papale; then, Rob Zombie announced his grisly film project based on the Broad Street Bullies; and now, even the fans are getting their own story told, as the Union's superfans, the Sons of Ben, will be filmed for a documentary.
It makes you wonder when the Phillies are going to get their own movie, though the upcoming Jackie Robinson biopic 42 does feature actor Alan Tudyk as former Phillies manager Ben Chapman, a man whose perplexingly intense anger had him stand in the way of integration in baseball far longer than anyone else.
Maybe they could find one of our former players not so consumed with hatred and start from there.
XYZ
The Flyers will be without forward Harry Zolnierczyk for four games, whose hit on Ottawa Senators defenseman Mike Lundin was deemed suspendable by the league.
And, when watching the video of the incident, it does become difficult to defend Harry Z's hit, even in the context of hockey, where at times, the goal seems to be to invoke as much pain as the bloodstained rulebook allows.
But the NHL official narrating the video gives a point-by-point breakdown of the hit, what was wrong with it, and why it requires a suspension, which puts the NHL leagues ahead of professional baseball, which would have halfheartedly cited the "human element" of the game and then tried to distract you with a wacky prank or whatever this was supposed to be.