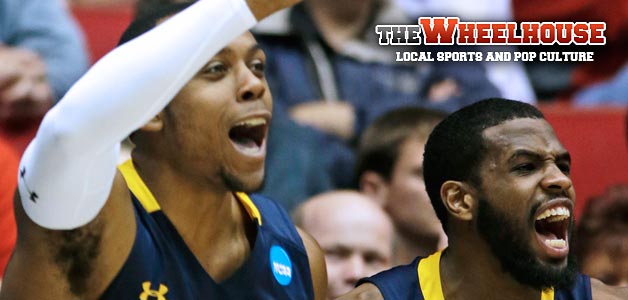 It was an ugly night for Boise State last night, watching La Salle score points with 63.3% accuracy and seal the 80-71 victory.
And as the La Salle Cinderella story continues, more narratives come spiraling out. The Allentown Morning Call told the story of Kale Beers, the Explorers' play-by-play man for 17 years, and where he was the last time the team had gone dancing:
Working.
College professors are notoriously unflinching when it comes to extensions during March Madness - it's almost as if they know you're not receiving your fifth emergency surgery in a month.
In 1992, Beers, then a La Salle student, was in such a predicament with a class project, and was forced to watch the team bus leave for Greensboro, NC without him on it. It would be over two decades before he'd have the chance again.
Retribution is a beautiful thing, as Beers had the call last night for the Explorers' big first round win. And no wet blanket professor was going to stand in his way.
YOU'RE GONNA GO FAR, KID
It's no secret how exciting Domonic Brown's spring has been - it can be tough to hide 400-foot home runs and the intensifying hopes and dreams of an entire city.
The display has finally gotten young Dom some national accolades, and about time. ESPN, running out of things to rank, has begun ranking Major League Baseball player-by-player, in a list so meticulous and you might find it in a baseball-themed super villain's apartment.
Thrilling, still though, that Brown has cracked the top 500 players, and sits admirably at #497. Technically, it's quite the downgrade from last year, when he made the highly exclusive top 400 at #396, but still. ESPN has clearly taken notice and is rewarding the Phillies' outfielder with some recognition.
Though Brown, hitting .397 with an 1.179 OPS, has got to feel the sting of failing to outrank Delmon Young. Young, who has yet to play a game because of an ankle injury and is working to meet the objectives for the weight clause in his contract, is still over 20 spots above Brown at #476.
FEY-NING IGNORANCE
In times like these, we need strong leadership. And nobody says "leadership" like Sarah Palin.
Nobody says a lot of things like Sarah Palin, due to an Alaskan accent and fiery passion for aerial wolf-hunting. But that's why Tina Fey's impersonation of the former vice presidential candidate is so accurate.
During her recent appearance on "Inside the Actors' Studio," Fey was asked - begged - by James Lipton to tap into the act that won her acclaim during the 2008 presidential campaign.
WHAT SHOULD HAVE BEEN
The Sixers are going to be a part of something on the basketball court this season that doesn't end with them losing by 30 points. Actually, in the short term, that's not necessarily true. But in the grand scheme of things, even the most humiliating, seemingly impossible loss will be a gain for the Sixers.
Professional sports and new-age stats go together like old people and the children on their lawns. Some look at them and see potential, and others simply begin panicked shouting at anyone who will listen.
The Sixers are utilizing a brand new camera-tracking system that offers precise recording of every person's movement on the court. It's called SportsVU, and they are one of 15 teams paying an annual $100,000 fee to use it. Recently, the Toronto Raptors, at the forefront of the movement, opened up about the system, and we got to see how SportVU not only tracks a play, but even recognizes each individual player to account for levels of skill and plays out what someone should have done.
The downside is that they've had to spend a fortune replacing computers that explode while trying to comprehend Spencer Hawes.