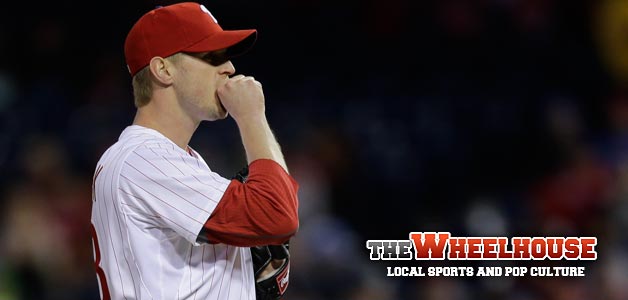 Kyle Kendrick, the unsung Phillies starter, has been belting out quality starts all season long, leading to a dramatic turnaround in the fervor surrounding him.
Now, instead of poorly conceived trade offers and/or death threats, Kendrick is lauded for keeping the Phillies from sinking even further. Notching his fourth win last night, Kendrick gained the approval of even his enemies (Who are not us, currently).
Giants post-game compared Kendrick to Maddux.

— The Good Phight (@TheGoodPhight) May 8, 2013
VOLUNTEER WORK
The Phillies are taking care of business in San Francisco at the moment, ruining the Giants' week with a pair of 6-2 victories. And on top of that, the Giants recently found that they're going to have to pay their employees! What a week!
Elsewhere in the league, the Marlins are having malfunctions of their own, but have a far more creative alternative than "forgetting" to tip the clubhouse attendant: They're just just discontinuing the top of their stadium.
CLEVELAND: IT'S A TOWN
ESPN is planning a "30 for 30" documentary on one of the more victimized fan bases in sports. Year after year, their teams let them down, leading to increased sympathy and vitriol hurled in their direction. Nobody likes to go to their city, and players have fought to leave it.
No, it's not Philly's big break.
It's Cleveland's.
And rightfully so; the Cleveland sports fan is a far more gutted, desperate organism, having lived through Lebron's abandonment, but almost certainly not the last Indians nonfictional championship.
Hey, it could be worse. There could be sea monster carcasses washing up on our beaches. And then leaving after a few years to wash up in Miami.
SPOCK VS. SPOCK
It may be a hideous, soaking wet Wednesday, but now we live in a world with both a trailer for Ender's Game,
and a Spock vs. Spock car commercial.
So, there's that.