For the sake of full disclosure, I went to Tuesday night's all-female wing-eating competition to cheer on my little sister, Victoria, but I left with the knowledge that those girls can eat a heck of a lot more than I can.
What started as some friendly trash-talking during an all-you-can-eat wing night at the Keswick Tavern (Glenside, Pa.) morphed into something much more, according to general manager Mark Spaetti.
Click here for the photo gallery
"One Tuesday we were sitting around, and one of the girls, OG Chicken Wing, started saying that she could out-eat us all," said Spaetti. "It started with about three girls, but once the word got it, more people wanted to get in."
Nine eaters in all competed for a $100 prize, a picture on the wall, and, of course, all the wings they ate during the competition.
"I remember thinking that [an all-female competition] seemed like something different and original," Spaetti recalled, "and it seemed like something that people would enjoy."
Judging by the 100-plus people that turned out to watch, it seems like he is onto something.
The format was simple: Two ten-minute rounds with a ten minute break in between. The total number of wings eaten in both rounds determined the winner. And of course, "you heave, you leave."
Luckily, that rule didn't have to be enforced.
After 20 minutes of eating, only one eater could claim the grand prize.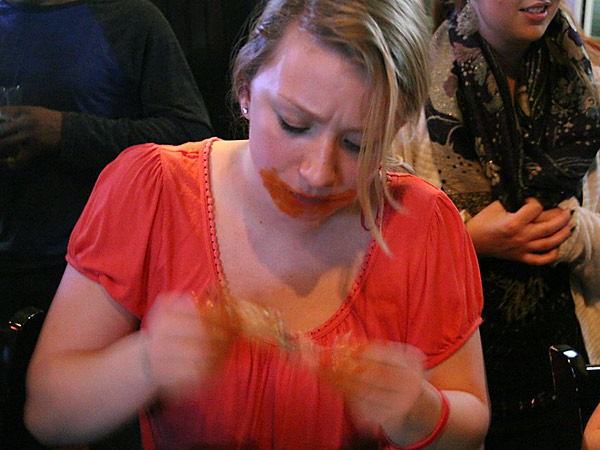 Becca "Buffalo Beelo" Burkhart, a 21-year-old Pittsburgh native and student at Arcadia University, was crowned champion after eating a total of 47 wings.
Sure, that may not sound like a lot compared to the numbers put up at the city's (in)famous WIP Wing Bowl - this year's winner ate 287 wings in 30 minutes - but those guys are professionals.
So how did she do it?
"I didn't really train," said Burkhart. "I ate a lot earlier in the day to help expand my stomach, but that's it. I have five guy roommates. I have to be able to eat to keep up with them."
While this was her first eating competition, Burkhart didn't rule out the possibility of trying to enter next year's Wing Bowl.
"I'd try for Wing Bowl, but I'd have to train a lot more first," she said after her victory.
I tried to be as impartial as I could, but obviously I had to root on my sister - she finished in third place - as the former vegetarian stuffed her face with chicken wings.
It was a lot of fun. Perhaps an all-female division at the next Wing Bowl? Your move, WIP.