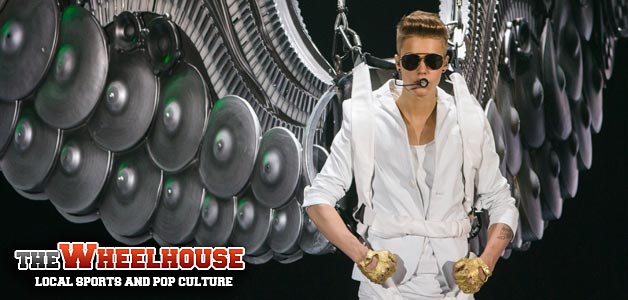 The Stanley Cup, an artifact known to motivate just by being in the building. The Stanley Cup, a center point of hockey's strongest, longest legacies. The Stanley Cup, a monument to blood and ice across generations.
The Stanley Cup, touched by Justin Bieber.
The Biebs meets THE CUP!!! pic.twitter.com/oh4AvDbYbT

— Peter Hassen (@PJHASSEN) July 10, 2013
Hey, you know what would be really cool, is if you let him carve his name into it.
BUY, BUY, BUY!
You weren't the only one encouraged by the Phillies winning six of their last eight.
Other teams that have talked with Phillies GM Ruben Amaro lately say he's talking about buying, not selling.

— Buster Olney (@Buster_ESPN) July 10, 2013
BRING IN THE WIENERS
The Cleveland Browns are slowly realizing that it's going to take more than "football" to get people's attention. They recently showed class in accommodating a fan who requested in his obituary for Browns pallbearers, so as to be "let down" by the team "one last time."
Next on Cleveland's agenda? Wieners.
Browns games will now features wiener dog races, to the delight of people from the internet everywhere.
Revamping the FirstEnergy Stadium experience was first on the list of the new VP of Marketing, Kevin Griffin, whose Twitter presence remains Adam Aron-esque. Not a day goes by that he isn't personally assisting fans or celebrating the Browns' highly versatile uniform history.
Love the heritage and history of our game. #GoBrowns, #DawgPound pic.twitter.com/dpY00rX6r9

— Kevin Griffin (@KevinGriffin425) July 9, 2013
EATON UP
The Phillies had their share of outfield miscues last night - well, John Mayberry did - but nothing compares to Adam "Not THAT Adam Eaton" Eaton's poor navigating skills last night against the Dodgers.
A PUIG OF HIS OWN
The NL Final Vote tally could be a tight race, unless the Worldwide Leader in Sports has anything to say about it.
ESPN seems pretty convinced that Yasiel Puig – the hot, trendy, fashionable, phenom who is like Bryce Harper but his stats aren't stalled due to time on the disabled list this year - is the best choice for their ratings in the long term, and therefore the ESPN hive mind housed in a toxic sub basement in Bristol pulsed out a message to its satellite hosts that they should openly campaign for Puig.