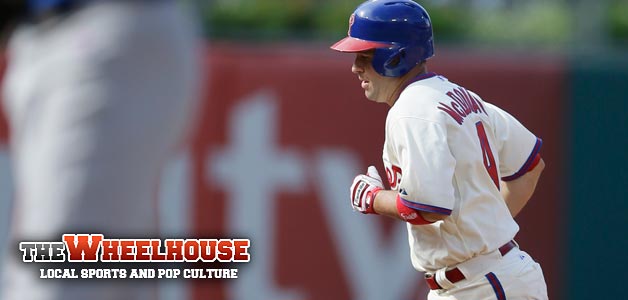 During Thursday's day game against the Cubs, mostly forgotten Phillies outfielder? backup catcher player John McDonald hit a home run to make it 12-1.
Literally no one liked this joke the Phillies' Twitter account generated moments later.
Old McDonald hits a bomb...E I E I O!!!! #Phils up 12-1 top 9th!

— Phillies (@Phillies) August 8, 2013
I think @Phillies was hacked.

— Mike Mader (@michaelmader) August 8, 2013
Someone paid for this tweet. With money. RT @Phillies: Old McDonald hits a bomb...E I E I O!!!! #Phils up 12-1 top 9th!

— FanSince09 (@FanSince09) August 8, 2013
HEY, IS THAT JIM THOME ON TWITTER?!
No it is not.
For the record my guy, the real Jim Thome, is NOT on Twitter yet. I'll let you know when that changes. #willtherealjimthomepleasestandup?

— Andrea Thome (@AndreaThome) August 8, 2013
SHAME ON ALL OF YOU AT SOME POINT
It turned out the reason Bruce Willis was fired from Expendables 3, was not because the whole franchise is sort of a joke that anyone who can still get outside work, like Willis, would do strictly for a paycheck, but because he was demanding $1 million a day to appear in it.
Meanwhile, Pee Wee Herman is coming back to television out of love.
Shame on you, Mr. Willis.
Also, shame on you, Mr. Herman. For that other thing you did.
JUSTIN ROSE: A MAN, A PUTTER
…an uncomfortably long kiss.
DETROIT PUTS FUTURE IN THE PAWS OF LARGE CATS
The Tigers may have the fourth best record in the Majors, and sit atop the NL Central by seven games over the Indians, so when you have to bash them, it can be tough.
Unless, you expand the reach of your insults to include the city of Detroit, at which point it becomes quite easy. Which is what Indians fans did the other night.
But as far as sports go, Detroit is doing all right. The Tigers are in first place, and very soon, the Lions will be back in action, and hope specifically to inspire their city.
"You want always increase and try to get better," noted class act Ndamukong Suh said. "Tweak things, have a plan, obviously revise on that plan, and find new ways that you can get better."
We all know what Suh's plan looks like.
Is Ndamukong Suh threatening to kick bankruptcy in the balls?
We can only assume.
AND NOW, A PLEASANT EXCHANGE BETWEEN DWIGHT HOWARD AND A YOUNG LADY ON TWITTER
@uHateBre with that face ion think u getting one either lol.

— Dwight Howard (@DwightHoward) August 7, 2013
@DwightHoward lmaooooo got one unlike your babymothers

— Brittni (@uHateBre) August 7, 2013
Ha ha, yes, we're all basking in the golden age of social media.