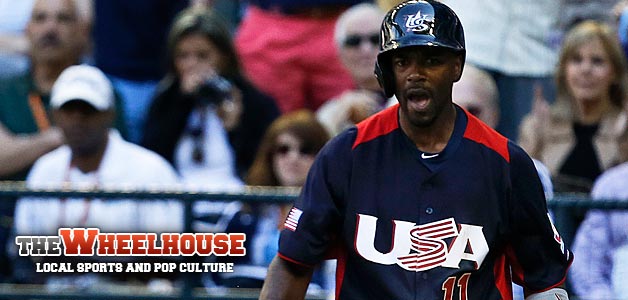 There were Phillies all over Sunday's World Baseball Classic eliminator between the U.S. and Canada. Phillies shortstop and telelvision icon Jimmy Rollins witnessed Miami Marlin Giancarlo Stanton's batting practice and couldn't help but make some surprising accusations.
Jimmy Rollins to Giancarlo Stanton:"You cannot be real. You cannot be human." Stanton heard it all day at the USA workout.

— Peter Gammons (@pgammo) March 5, 2013
Needless to say, after that display of power, Stanton was benched in place of Shane Victorino, who quickly became a pawn in manager Joe Torre's weird "everybody bunts" plot.
Two strategically placed RBI doubles from the Orioles' Adam Jones and the Royals' Eric Hosmer gave the Americans a five-run chunk to work with, and eventually led to a 9-4 win, a victory of Pool D, and the elimination of Canada (well, their baseball team).
Meanwhile, on the losing side, Tyson Gillies and Pete Orr combined for an 0-for-7 day at the plate and one pretty wretched route on a fly ball. Phillippe Aumont pitched an inning of relief for the Canadians in which he allowed two hits but nothing more, getting his ERA to settle in nicely just above 16.00.
HIGHLY CYCLICAL
The malevolent forces in play at the Phillies' preseason camp in recent years have mobilized. The starter's pistol for unfortunate mishaps seemed to go off on Sunday when former prospect Jarred Cosart hit Darin Ruf in the elbow with a pitch, but after leaving the game, he turned out to be fine.
Their bloodlust unsettled, they turned to someone without Darin Ruf's agility.
Charlie Manuel was innocently enjoying a chair when some between-inning entertainment at the Astros' Osceola County Stadium got him run over by a tricycle.
@toddzolecki @phillies - Picture of Dubee laughing right after the Tricycle ran over Charlie.It was hilarious. twitter.com/sjsrobin/statu…

— Scott Robinson (@sjsrobin) March 11, 2013
To be fair, Charlie had apparently tasked pitching coach Rich Dubee and bullpen coach Mick Billimyer to protect him from assassins, and neither could do more in this situation than laugh hysterically. Dallas Green, always a difficult man to get to insult someone, also chimed in.
GET OFF OF MY CLOUD
Bernard Hopkins' is a testament to what self discipline can achieve. If we all steered clear of alcohol, junk food, and got enough sleep, maybe we'd all be successfully punching Tavoris Cloud in the face at the age of 48.
But Hopkins' raw athelticism and talent are also contributing factors to his relentless re-setting of the record for oldest boxer to win a major title, destroying the previous record set by himself.
Saturday night saw Hopkins start a 12-round bout with 31-year-old Cloud that ended in a unanimous victory for the Philadelphia boxer and lost fluids for Cloud. Hopkins is now fiddling with the notion of hanging it up for good, as it would have to be a pretty enticing fight to get him back in the gym.
In the mean time, he'll most likely keep being the devastating human specimen that got him where he is.
THAT MAN HAS A FAMILY
The Sixers lost their 13th straight road game yesterday, which you'd think would get balanced out by some sort of stellar record at home, but they're actually quite awful within Philadelphia city limits as we--
And that seemingly from-nowhere, mind-erasing dunk from the Clippers' Deandre Jordan had everyone rethinking a lot of their major life decisions last night. The gallery of horrified faces from either team indicate just how challenging of a task it will be from now on for the Pistons' Brandon Knight to look his family in the eye ever again.
Anyways, the Sixers have a bunch of guys who play the drums now.