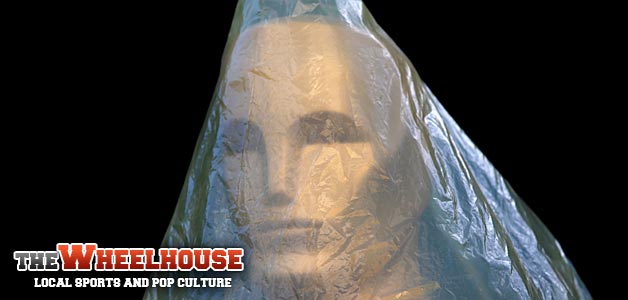 It was a versatile evening at the Oscars as the Academy failed to heap undying praise onto the single trendiest film of 2012 and instead spread its approval across the board like some kind of actually-loving parent.
The most highly coveted awards went to six different films - Best Picture (Argo), Best Actor (Daniel Day-Lewis, Lincoln), Best Actress (Jennifer Lawrence, Silver Linings Playbook), Best Supporting Actor/Actress(Christoph Waltz, Django Unchained/Anne Hathaway, Les Miserables), Best Director (Ang Lee, Life of Pi), Best Original Screenplay (Django Unchained) and Best Adapted Screenplay (Argo).
Meanwhile, the forgotten also-ran of the evening was Zero Dark Thirty, who took home only one of its five nominations; the highly less coveted Best Achievement in Sound Editing, which it was forced to share with Skyfall.
But the real story was Lawrence, who, with local boy Bradley Cooper, not only helped adapt the Philly suburbs for the big screen in Silver Linings Playbook, but also couldn't quite get to her Oscar without some issues.
As one Youtube commenter correctly pointed out, "The fall just made her 10x more likable than she already was." Another, less helpful commenter noted, "I fall like that all the time."
So, you are not alone in this world, Jennifer Lawrence.
ADVANTAGE: GENO'S
With the Oscars out of the way, we can finally get down to business on whether or not the Eagles should be planning to draft Geno Smith, who should probably prepare himself for the intense public scrutiny of thousands of NFL analysts, both professional and volunteer.
How can you fairly assess something from the outside looking in? Majority of the time you'll be wrong.

— Eugene Geno Smith (@GenoSmith_12) February 8, 2013
Smith got his name on a few clipboards Sunday with his 4.59 second run of the 40-yard dash, illustrating a velocity that could translate well in the read option it is presumed Chip Kelly will employ. Of course, the 40-yard dash does not feature 800-pound linemen waving their tree trunk arms in his face or a stadium full of people screaming for his blood, so the results can be taken with a grain of salt.
He also had to sit down for a 15-minute interview with Steve Mariucci, because you never know when Steve Mariucci is going to ambush you with a question like "WHAT'S THE DRUG OF CHOICE ON YOUR CAMPUS?!" in the middle of a play.
BAD IKEA
IKEA was the latest company lambasted by an increasingly widespread horse meat scandal, which begs the question: Should restaurants even be hiding their horse meat?
One local restauteur says no. Pete McAndrews, owner of six restaurants in the Philadelphia area including Monsu, La Porta, and Paesano's, looks to "embrace horse meat wholeheartedly" at Monsu in the coming months. The practice is no longer illegal, with the ban on horse slaughtering being lifted in 2011, which may put McAndrews at the front of a controvesial trend.
On a lighter note, this other guy just wants to know if you'd be cool with petting a nice cat during your meal.
...IF IT WEREN'T FOR YOU MIDDLING KIDS
The Flyers are coming up on a .500 record again, which means they are most likely on the verge of a mini-collapse, again. Six times they have had the chance to pull themselves out of the hole, and each has been marked by failure. The latest attempt will be tonight against ex-Flyer James Van Riemsdyk and the Toronto Maple Leafs, who has been quite the stud to his new friends.
The team's owner, Ed Snider, didn't let any of that get him down on Saturday when he held a reception for his recent wedding at the University of Pennsylvania Museum of Archaeology and Anthropology, featuring a wall of flowers and a caged violinist who was presmuably there under their own free will.
For the Sixers, however, the "middle" seems an almost unattainble goal to be played out in only their wildest fantasies. Losers of five straight, co-owner Adam Aron was stretching his thoughts on a potential victory against the Knicks on Sunday to include his team's wardrobe.
Sixers playing in our blue road uniforms against the Knicks. Could it be our night?

— Adam Aron (@SixersCEOAdam) February 25, 2013
It was not.