Former Eagles defensive end Jason Babin is a proud supporter of the Republican Party. He isn't afraid to speak his mind on Twitter and, as a vocal conservative, he frequently tweets political opinions that may rub some people the wrong way.
How long would a small business stay a float acting like this? Set a good example #BO twitter.com/JasonBabin93/s…

— Jason Babin (@JasonBabin93) January 16, 2013
That said, it may not surprise you that Babin is also a huge fan of the National Rifle Association. He's such a proud supporter of the NRA that he actually signed his entire family up for lifetime memberships. And, today, when his family's membership kits came in the mail, he proudly took to Twitter and posted a picture of them: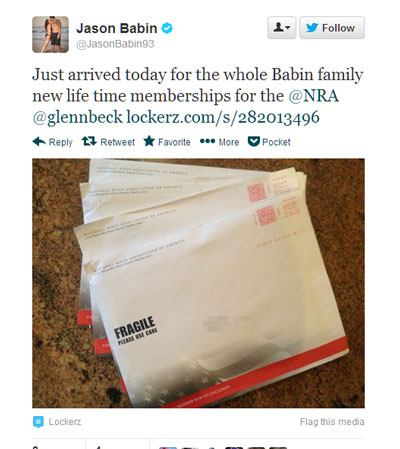 The only problem is, Babin didn't blur out his address. We did that. He accidentally (we assume) posted him home address for his nearly 45,000 followers to see. Whoops.
Remember folks, think before you Tweet. Even if you aren't a professional athlete.