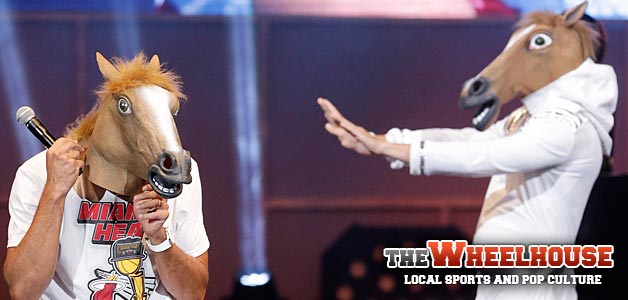 It's tough to dispute a team's worth when they've just won a championship. Twice in a row.
But hatred in sports is all about placement. If we just move our hatred from the Heat themselves to the fans of the Heat, then we can continue to blast them no matter how many times they prove the theory that "all the good players on one team = championships."
And that's exactly what the world has done, as we can see that Miami's victory parade - horse masks and all - is hardly up to par with a traditional urban parade turnout, as the Baltimore Ravens Twitter account was so keen to point out.
#BALTIMORE sure knows how to throw a party!!! #WorldChamps #Ravens pic.twitter.com/iEGWseLkBD

— Baltimore Ravens (@Ravens) June 25, 2013
Of course, all you have to do to get Philly's attention is to mention our parade (that it didn't have that many people, that you plan on making sure we never have one again, etc.) and we'll throw ourselves into the fray.
The Phillies parade and the Heat parade. #ThatsWhatIThought pic.twitter.com/CVQvWy5ShN

— Sean Goodwin (@SeanGoodwin13) June 26, 2013
WHAT'S ON DRAFT
Got some questions about the Sixers in the NBA Draft?
Well, that's understandable, given that the stories coming out of Sixers camp these days have nothing to do with it, despite its imminent nature and importance to the team's future.
But Sports Illustrated has you covered with a mock draft they did, informing you of the Sixers' intentions - SI has them selecting center Steven Adams:
"Everyone knows Adams is a project, one who will be best served spending all of next season in the D-League getting used to the speed of an NBA game."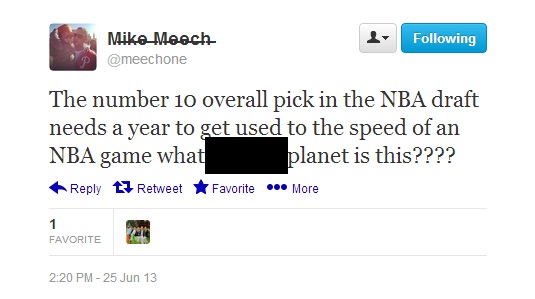 Or they could just do the sane thing.
It seems pretty obvious #Sixers will tank for high 2014 draft pick.

— John Miller (@ScribeMiller) June 26, 2013
THE SOUND OF SILENCE
The Phillies did NOT blow a late lead last night.
Which, in turn, gives us the credibility to laugh at those who did.That is how we measure success now.
Last night, it was the White Sox turn; a team whose every misstep is supplemented by the unparalleled homerism of announcer Hawk Harrelson. In most cases, Harrelson merely shuts down in the wake of horrible defeat, choosing blistering silence over any commentary whatsoever.
But after a dropped pop-up that would have ended the game, but instead, allowed the Mets to tie it, Harrelson couldn't stop muttering.
It was glorious. RT @AaronGleeman: Please tell me Hawk Harrelson is announcing this game.

— SB Nation MLB (@SBNationMLB) June 26, 2013
"You've gotta be bleepin' me," Harrelson growled. "You have got to be…"
Then there was some silence as the blood rose to the top of his skull and started to boil.
"Lord have mercy," he breathed, knowing what was coming. "Unbelievable. Unbelievable."
LET'S GET COUNSELED
And here is the ambiguous trailer for Ridley Scott's The Counselor, which of its many stars, features Cameron Diaz on screen first - but don't be alarmed. Penelope Cruz, Brad Pitt, Michael Fassbender, and Javier Bardem are all in there, even if one of them is playing a character who seems to have just finished a glue-sniffing binge.
It's Bardem.