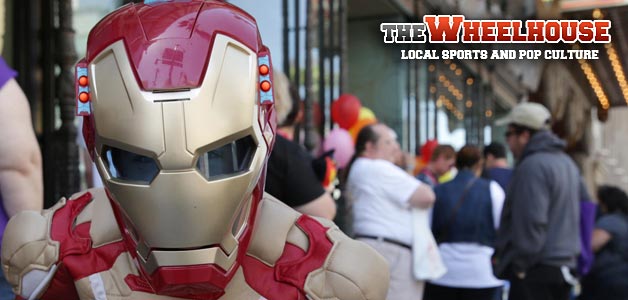 The weekend was a good one for comic book fans. First, Saturday was the one day all year that is dedicated to receiving the thing they love for free.
Then, Iron Man showed up in theaters again, this time to the tune of $175 million. It was the second largest weekend take since last summer's The Avengers.
There's quite a blur of alien gods, magic cubes, and shirtless Mickey Rourkes to catch up on before seeing the third chapter of Iron Man, so catch up with this series of doodles from Steve Murray and John Richardson of the National Post.
THE DOCTORS IS OUT
Roy Halladay had yet another meltdown on Sunday, this was one coming against baseball's least respectable franchise, the Miami Marlins, who only recently passed the Upton brothers in total home runs.
The misery flowed freely.
Please, God, make it stop.

— General (@FuquaManuel) May 5, 2013
Fargle Bargle

— Zoo With Roy (@zoowithroy) May 5, 2013
Jayson Stark attempted some feel-good history lessons.
FWIW, in April 2003, Greg Maddux once gave up 9 runs & 10 runs in back-to-back starts. Went on to go 16-8, 3.45 the rest of that year.

— Jayson Stark (@jaysonst) May 5, 2013
But perhaps, as always, we stayed tune to witness to greatest, most morale-boosting comeback victory in Philadelphia Phillies history!
No.

— Did The Phillies Win (@didthephilswin) May 5, 2013
ENDANGERED PENGUIN
No Flyers to watch in the playoffs, but we can watch the fans whose teams did make the post season make idiots out of themselves. (h/t Deadspin)
EJECT BUTTON
Speaking of representatives of rival teams leaving early, Bryce Harper hit the showers a bit prematurely on Sunday as well, getting the heave-ho from third base umpire John Hirschbeck in the top of the first for argumentative gesticulations following a check swing call.
The Nationals announcers seemed pretty sure that Hirschbeck only threw Harper out of the game because he just really, really wanted to throw Harper out of the game.
Hirschbeck's account of the incident revealed his the chilling motivations (h/t Bill Ladson, MLB.com):
"First of all, he put both arms up in the air. To me, I felt like that's showing me up. I yelled at him and warned him to stop. And then he continued and he slammed his bat down. I actually warned him again and then the next thing he slammed his helmet down and I felt three warnings are more than enough."
We forgive you, John.