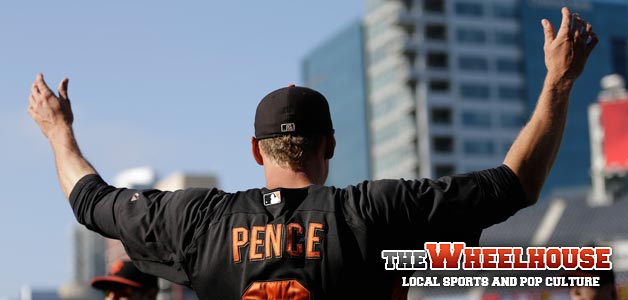 Late July is the perfect time for sinister plots, as has been baseball tradition since the days that "treachery" was still a measurable stat on the back of baseball cards.
This year, it made a snickering comeback. Last night, @FanSince09, like a kid arranging a pencil-drop, or whatever horrifying thing kids do to prank teachers these days, hatched a plan to trick the last #truephillie.
Ok, 1130pm we all start tweeting Hunter Pence to congratulate him on the trade to Boston.

— FanSince09 (@FanSince09) July 31, 2013
And at 11:30 last night, Pence was traded to Boston for an unspecified return.
.@hunterpence Can't believe you were traded to Boston! Shane and Hunter together again!

— FanSince09 (@FanSince09) July 31, 2013
.@hunterpence Welcome to Red Sox Nation! #Chowdah

— M̶i̶k̶e̶ ̶M̶e̶e̶c̶h̶ (@meechone) July 31, 2013
MLB BREAKING - Red Sox agree to trade with Giants for Hunter Pence
— Rich Smith (@ALLsportslNTEL) July 31, 2013
Leading to countless fans and Pence himself just checking to be sure.
Pretty good try everyone...kinda cruel, but well played.

— Hunter Pence (@hunterpence) July 31, 2013
CHILDREN OF THE KANE
They say it's easy to get lost in Patrick Kane's eyes. Now you can get lost in his helmet, torso, or 2013 Stanley Cup, too.
One midwestern fan celebrated the only way who knew who: with corn. Patrick Kane, the Stanley Cup, and the Blackhawks' 2013 championship have been immortalized, in corn maze form, at the County Line Orchard in Hobart, Indiana.
It's a medium long underused in this nation to express affection. Let this be the start of a new trend, and let the country's corn crop become stamped down and unnavigable with our love.
THIS IS WHAT A CHAD QUALLS VICTORY LOOKS LIKE
Somehow it's even less pretty than a loss.
FARGLE BARGLE
There are some hateful words out there, and now the Liverpool Football Club can't say any of them.
It's an honorable, progressive move; if tragically beaten by 'mumbling.'
IT'S ALL AN ACT
Training camp isn't all heat exhaustion and torn ACLs!
The Redskins' Alfred Morris used a break from practice to perform a reading of this monlogue:
"We live in a cynical world," Morris begins.
That's fair. He does play for a team that when it's not under scrutiny for leaving the star on the field to get injured, they're under fire for having a racist name.