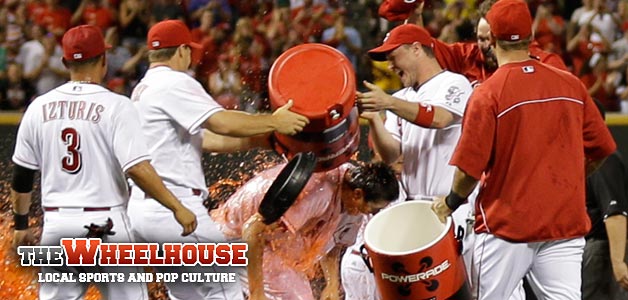 Homer Bailey has now thrown the last two no-hitters in baseball, the most recent of which he knew quite vehemently was not a perfect game (NSFW language)
An incredible feat, but he still had his fist-biting play in the field that made everybody yelp. Bailey will have Joey Votto to thank for this play that twisted the official scoring to keep the hits at "0."
It's becoming difficult to tell which Votto facts are real and which ones are fictional monuments to his greatness.
During Monday's #Reds rain delay, #JoeyVotto completed the dissertations for his next 4 Master's degrees from #Yale

— JoeyVottOMG (@JoeyVottOMG) July 3, 2013
See, I instantly believed that.
UMP GETS TOSSED
We finally found out what can get an MLB umpire fired last night, and it isn't borderline incompetence, hair trigger patience, or regular incompetence. It's drugs.
Brian Runge, the 14-year vet who was once suspended for bumping Jerry Manuel with his chest protector, failed a test and has been relieved of his duties. And that's all MLB will say at this point.
Just kidding. That's all the leaks who are inside MLB will say; the league itself has no interest in sharing this story with you. Joe West, one of a rotating trio of guys who are routinely labeled the worst umpires in baseball and who is the PRESIDENT OF WORLD UMPIRES ASSOCIATION, shockingly declined any comment.
To replace him, MLB promoted a guy from triple A. Which is a move that always ends well.
ANGRY BIRDS
If you wanted to bring up all that anger and bile from 2012 and then replace it with soothing hope for the future, all set to Explosions in the Sky, then the internet has really come through for you.
IT HAS TO WORK
"Tonight's the night," Clayton Kershaw thought. "I'm finally gonna try it."
SPACE CASE
The Europa Report looks to change science fiction, as it illustrates space travel to one of Jupiter's moons as a more realistic, scientific venture, not crowded by aliens or viruses or whatever that thing was in Red Planet, like a… robot… cat… or something.
And they seem like they mostly succeeded. People don't start screaming until about the last 30 seconds of the trailer.