UPDATE (12:50 p.m.) - Captive Media, the people responsible for bringing urine-controlled video games to the men's room at Coca-Cola Park, is indeed working on something for the women's room: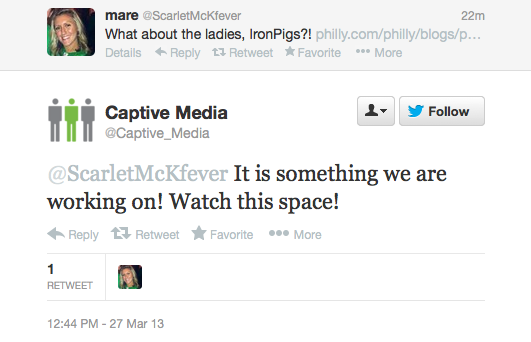 FROM EARLIER:
If the IronPigs are treating the men to video game urinals, then what do the ladies get? They should get something fun too, am I right ladies?
The first thing I thought of when I read Ryan Petzar's post on these games was, "What about the ladies?!". Jealousy is mostly what is causing this "what about us" feeling because if the guys get it, we want it too. But the more I think about it, the more I realize most women don't care for video games and our bathroom line is long enough as it is.
So this got me thinking, what could be the equivalent of video games for ladies? Magazines would be nice while waiting in line but that's not quite enough. Throw in some flat screen TV's with Bravo or E! on then just maybe we're talking business. Not my channels of choice, but again, for the ladies.
What if Tinder had the capability to locate matches within the ballpark? That might require some additional technical skills, but it's just another crazy idea to throw out there.
Here's a thought; lets take what we have here in Philly and spice up the Lehigh Valley. For example, several bars and restaurants in Philly have nice setups in their ladies' rooms at the sinks with endless toiletries. From McFadden's at Citizens Bank Park to Del Frisco's Steak House these ladies rooms are stocked with plenty of goods.
Ms. Liz, the bathroom attendant at McFadden's, is a big hit with her spunk and her boombox, not to mention her stellar collection of goods in the ladies room. Name brand perfumes, hairspray, hair ties, bobby pins, hand sanitizer, mints and even lollipops cover every inch of the counter. Her tip jar is always full so you know she is doing a fantastic job. The IronPigs could learn a thing or two from her.
Just a little pampering is all we're asking for. I'm sure if we put enough thought into this we can present our ideas to the organization. That is, if anyone cares enough.