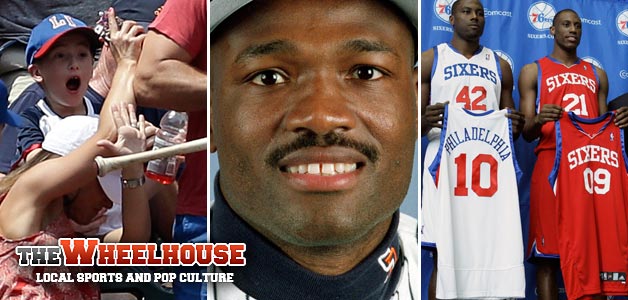 In the late innings of last night's 4-3 Phillies walkoff win, the beat writers were all made witnesses to baseball's darkest nature.
We just saw a grown man leaping up to the press box to get a foul ball. Then he barrelled into a girl once it was tossed. A grown man.

— Todd Zolecki (@ToddZolecki) August 22, 2013
dude ran up four rows, ran over a girl & was begging for the ball when it landed in the box. When ball thrown to a girl, he ran her over.

— John R. Finger (@jrfingerCSN) August 22, 2013
Seriously, can someone get the girls tickets to another game up here?

— Kevin Cooney (@KevinCooney) August 22, 2013
Hey, you know what the Sixers will

definitely

have next season? Uniforms. And

Grantland couldn't be happier

.

In case you've been unable to keep up on your news of the bloodthirsty, here's a quick rundown of all the NFL players currently

having their years ruined

.

Some sad, true words were uttered on MLB Tonight last night; sadder still because they were uttered by Harold Reynolds.
"I'd rather face the Phillies than Miami." - Harold Reynolds
— Heard on MLB Tonight (@HeardOnMLBT) August 22, 2013
The Phillie Phanatic on stage with @DropkickMurphys at @MannCenter! Can you spot him? @brentporche @Phillies pic.twitter.com/tEvcLzamLP

— 933 WMMR (@933WMMR) August 22, 2013
While some are debating the merits of

Vick vs. RGIII

, Ron Jaworski

argues that it's Colin Kaepernick

who could be "...one of the greatest quarterbacks ever."

Can you believe it, Sylvester Stallone has no qualms about making some more money off of his Rambo character, this time

in the form of a television show

.

Check out Phillies third or fourth string catcher Steven Lerud take a hit like a champ.