The New York Giants came to Philadelphia and pushed the Eagles' home losing streak into double digits with a 15-7 victory on Sunday.
The 10th consecutive loss at Lincoln Financial Field surely soured Eagles fans, but not nearly as much as what a particular Giants fan in attendance displayed in the stadium.
Meet License Plate Guy, Joe Ruback: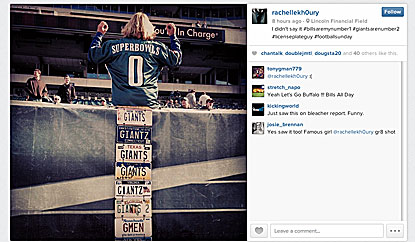 This guy strolled into the Linc with a custom-made jersey. On his back was the Eagles midnight green with a number 0 and the nameplate read "Superbowls." Ouch.
No word on how (if?) this guy left the stadium.
The Giants started this season 0-6 so the fan needed to go the trophy case to agitate Eagles fans. Four Vince Lombardi Trophies occupy the Giants' trophy case; while the Eagles are still searching for a first.
As if the Eagles' woeful performance on Sunday wasn't enough to depress Eagles fans in attendance, they also had to deal with the sight of this guy.
(h/t to USA Today Sports' For the Win)