Once in my life, the late, great Frank Deford and I appeared on the same page of a publication.
And I got top billing.
OK, let me explain.
Back in December 1989, I was a columnist/takeout writer for The Virginian-Pilot/Ledger-Star in Norfolk, Va. Pernell Whitaker, a local kid and Olympic gold medalist, was one of five Olympians who trained in the area under Lou Duva/George Benton; Evander Holyfield, Meldrick Taylor, Mark Breland and Tyrell Biggs were the others.
Some of the best boxing writers of the time had decided to stay with their publications, and the first edition of The National Sports Daily was less than a month away. I got the call thanks to Vince Doria, who had left the Boston Globe to become an executive editor at The National, and I flew to New York for a series of interviews on the very day they had scheduled an elaborate Christmas party — they actually flew in writers based as far away as Los Angeles for the fun.
At the end of that interview process, I sat with Deford in his office on 5th Avenue and made the mistake of talking about the risk involved. He said, "You? You think you're taking a risk?'' A Mexican cable giant had spent anywhere between $50 million and $100 million on the idea that America would embrace a national sports newspaper. A lot of famous names in the business had already signed on. Deford had left Sports Illustrated contentiously to head this up.
I was from Norfolk. It was a pretty stupid thing to say.
Ten days into our existence, and after Deford had set me up to be part of Mike Tyson's entourage in Tokyo, Buster Douglas knocked out the most invincible man on earth. I was there for a good week before and a memorable 48 hours after, with all kinds of access. It was still the best lede I ever wrote, because it had to be filed within five minutes of the fight's end:
It ended with Mike Tyson's left eye closed, his mouthpiece hanging out of his mouth, and the rest of the world's mouth open just as wide ...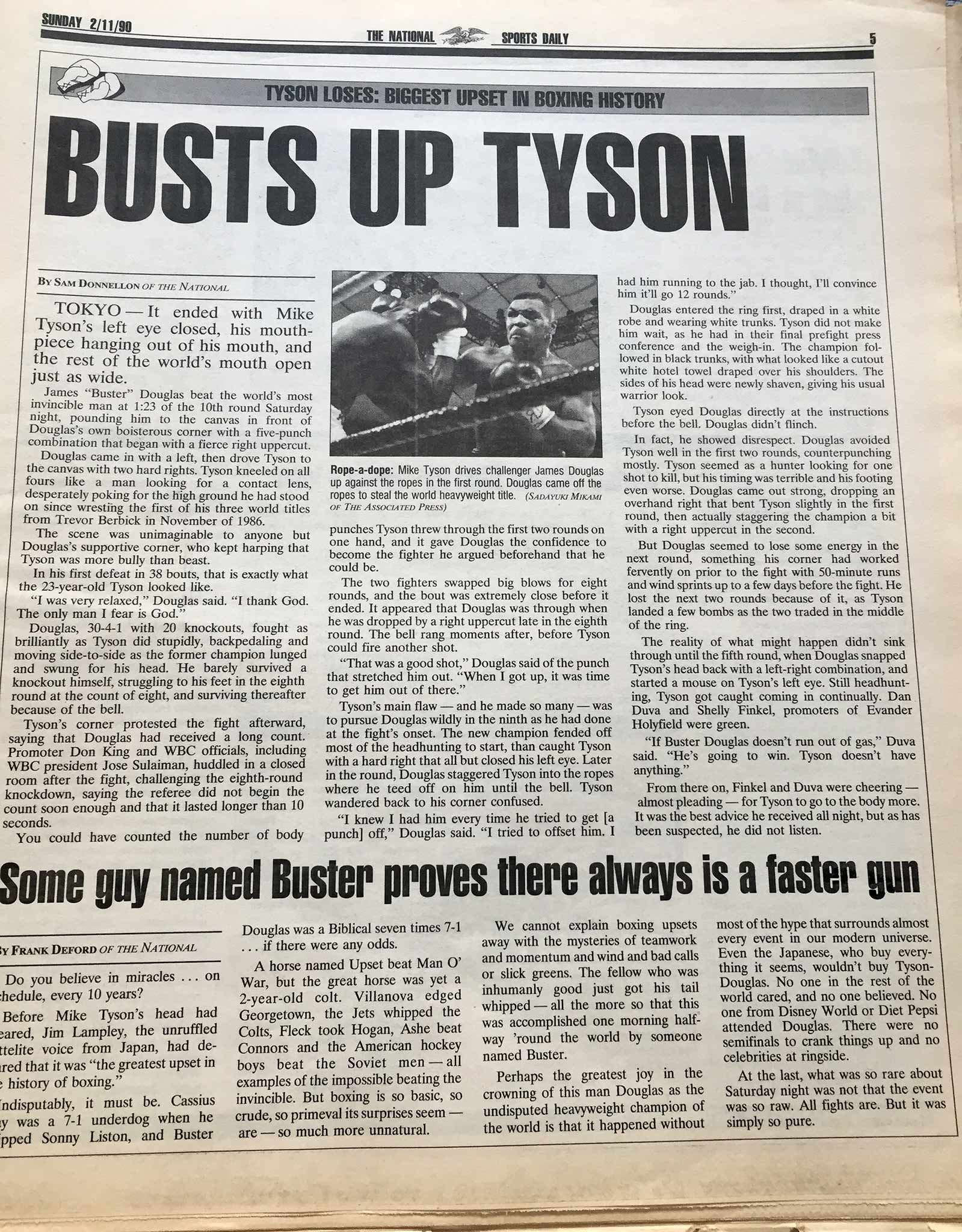 Deford wrote a 300-page essay that ran underneath it on deadline, banging away back in New York on a typewriter, I was told -- a real departure from his magazine-weaned, long-form upbringing. Two newspaper guys. At least for a night.
For the next 17 months, until we closed shop, my assignments included covering George Foreman's amazing rebirth, the epically great fight between Philadelphia's Taylor and Julio Cesar Chavez, Holyfield knocking out Douglas, Tyson's attempted comeback, and several others – really, boxing's last hurrah.
And when The National folded, when lesser-profiled people like myself spent some time finding the next thing – the job I still hold – Deford stayed in touch, checking in, helping with leads and recommendations. This is the part of my relationship with him that I treasure the most. He would always answer the phone or get right back to me. He would always talk at length, offer encouragement, write glowing recommendations, and promptly.
So I was very sad to hear that he had passed away Sunday at age 78. But I am still pretty amazed by who he was and how much he did while he was on this earth.
And that I got to share a sliver of that. Our page in history.