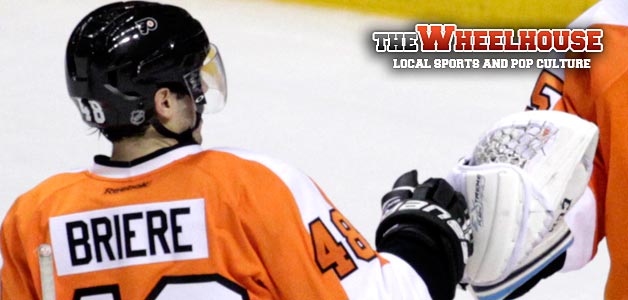 The Flyers played their last home game of the season last night, which may have been the last time to catch Danny Briere in a Flyers uniform.
It was also your last chance to make raucous statements of physical intent to Claude Giroux. In person.
You could always throw together a music video for such an announcement, as Well Excuse Me Princess has done.. Hey, if celebrities don't respond to your letters or screams, it is perfectly reasonable to take things to the next level.
Nobody wrote a song about Jakub Voracek, though, the team's official MVP for the season. Also on that list of awards are Scott Hartnell, who won something for staying on his feet long enough to get injured, and Zac Rinaldo, who won an award for having the most "heart," which is hockey slang for "punching."
ARRESTED DEVELOPING
It seems pretty surreal to see actual, new footage of the Bluth family, but Entertainment Weekly confirms it: Arrested Development is no longer going to be just a novelty Twitter account.
FAMILY LOVE MICHAEL twitter.com/bluthquotes/st…

— Arrested Development (@bluthquotes) April 12, 2013
And so, we have our first clip from the new season of the tragically canceled show, debuting on Netflix May 26. It seems a rather inane bit of Buster/Lucille schtick, but will probably wind up being centric to the series or something.
ADRAFT IN A SEA OF IGNORANCE
Some people spend the year talking about the NFL Draft. Other people do not, and find themselves defenseless when the draft rolls around and they still have to communicate with people.
Those people have created a solution: lying about knowing things to appear familiar with them.
THE SOCK STOPS HERE
All five living current and former United States presidents gathered recently in Dallas for the dedication of the Bush Library.
To commemorate the event, Bill Clinton re-joined Twitter and immediately began adding to the internet's stockpile of valuable data.[Those are the socks of self-professed "sock man" George H.W. Bush.]
For a far more interesting Bill Clinton-related image, here's a shot of him and his wife playing volleyball in 1975.