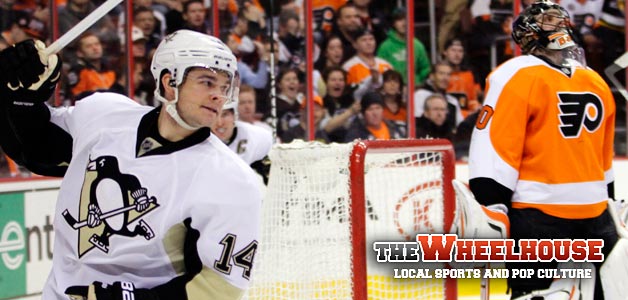 We can all remember sitting in movie theaters, watching penguins march to the sea to breed and being charmed as they made appearances in documentaries and animated films almost weekly for the next few years.
But all it takes is Sidney Crosby's awful face to burn through any good will penguins built up since their dynasty in cinema of the early-to-mid 2000's.
Chris Pronger's face, on the other hand, was quite welcome yesterday, despite what he was saying, and made everyone nostalgic for the Flyers winning games, if you put aside the stuff about him yelling at his kids.
The Flyers took the lead early last night - too early. A 4-1 lead in a Flyers-Penguins game feels more like an ambush than a cushion; you spend the rest of the game looking over your shoulder, wondering when the big, stupid thing is going to happen.
Well, it happened - three times in the second period and then once more in the third for a total of four unanswered times and a 5-4 Flyers loss.
YOU ARE THE VILLAIN IN ALL OF OUR STORIES.
FISHDUCK SUPPORTS EAGLES
In what sounds like a shifting alliance of woodland creatures, the Oregon football web site Fishduck said yesterday that Chip Kelly is expected to win multiple Super Bowls in Philadelphia.
"The fans of Philadelphia have no idea what they are about to witness. The greatest sports experience of their lives is about to unfold over the next four years..."
--Charles "FishDuck" Fischer
Look, Mr. Fishduck, sir; this is Philadelphia. We prefer our attitudes to be toxic and relentless - if you start injecting this message of hope into the masses, people are going to be able to get out of bed in the morning, and the next thing you know, our sports talk radio is filled with conversations that aren't thinly veiled messages of hate.
Think about what you're saying, please.
SPRING AWAKENINGS
The Phillies web site submits a theory: What if spring training actually is relatable to the regular season?
It's all too easy to cast off the success of Domonic Brown and Ryan Howard and the three-strikeout games of Darin Ruf, claiming it's just the preseason and nothing matters.
Here is when I asked Matt Gelb about Ryan & Dom Brown hitting the babsell. #PhilliesTalk twitpic.com/c8ns4j

— Chic (@Chiccywood) March 4, 2013
Tell that to the recently-not-undefeated-anymore Kansas City Royals. They finally lost their first game of the spring yesterday, giving them a paltry record of 11-1 and a slight edge over the equally horrifying 11-3 Mariners.
I think all the attention got to the #Royals. Couldn't handle the media pressure. It's critical now that they put this behind them, regroup.

— Sam Mellinger (@mellinger) March 7, 2013
The Phillies may have picked a bad time to start believing in preseason stats. If the Royals' are to be believed, then they are the last team they'd want rolling into town for a home opener.
DECLARATION OF WARS
The Star Wars universe is in dangerous flux once again as studios prepare to take what they've already ruined and ruin it a second time until it's nothing but sad, ruined dust.
The Star Wars sequels are coming. It's a confusing era, as the last attempt at this had a racist CG Looney Toon get more screen time than Obi-Wan Kenobi. But the original cast is claiming to be signed on, or thinking about signing on, which adds a potentially authentic feel to what has been destroyed by green screens in the past.
Even the Wells Fargo Center isn't free from the influence of the films, as Ilya Bryzgalov's recent new mask featured Darth Vader, the Death Star, R2-D2, and Yoda wielding an orange light saber which the team now reports was an attempt to put some Flyers colors in the scene, not indicate Yoda is a Sith lord like some kind of monsters.
In the mean time, all we can do is hope we've seen the last of the worst Jedi ever.