Well, we have now cracked the Top 10 two weeks in a row, and heading into the playoffs we are feeling more like the Patriots than the Eagles.
That is to say, we are riding some momentum.
Ok, not as much as 'buffalo66', who finished in second place last week and first place the week before, but we still feel pretty good.
Congrats to 'buffalo66' for a great run the last couple weeks. He also finished in 4th place in the opening week of our philly.com FanDuel NBA Beat the Expert challenge.
We have another round of the NBA league starting on Friday night, and you can join that by clicking here.
We are also debuting our philly.com FanDuel NBA Beat the Expert challenge on Saturday. The first week will be free, and just like the NBA league, all the players who beat us will take home $5. You can sign up for that by clicking here.
Most importantly, you can sign up for this week's NFL challenge by clicking here.
Next week will be the last week of our NFL challenge, so be sure to play as much as possible (you can enter multiple teams each week).
We also encourage you to play in the NBA and NHL challenges as well, and we will continue to blog on those leagues as well.
Now that we have some of the business out of the way, let's take a look at what we are watching heading into Wild Card weekend.
---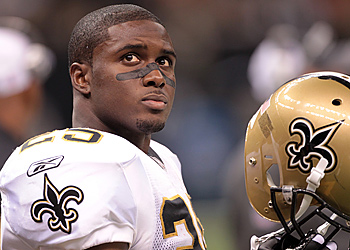 We're going to take a different approach for selecting the bargains and busts this weekend. Instead of listing one at every position, we'll pick one bargain and one bust for each game.
While we'll give you some of the secrets to postseason success, we cannot give them all away. It is the playoffs, after all - anything goes.
On to the wild-card bargains and busts:
EAGLES VS. PACKERS
Bargain: Donald Driver - $4,800 (21st among wide receivers)
Outside of Asante Samuel, the Eagles' secondary is very weak. Dimitri Patterson will start opposite Samuel, just two weeks after being benched against Minnesota and three weeks after the Giants torched him. Samuel will likely line up across from Greg Jennings for most of the game. That means Driver will have Patterson on him, a matchup the longtime Packers receiver can likely take advantage of.
Bust: Packers defense - $6,700 (3rd among defenses)
The Eagles offense looked feeble against Minnesota two weeks ago, but with Michael Vick rested and Andy Reid given more than a full week to start planning for Green Bay, they will have a big game against the Packers. That does not bode well for their defense, especially given how Vick generated a great deal of offense in only one half of football in the season opener. Even the great Clay Matthews cannot slow down Vick entirely.
SEAHAWKS VS. SAINTS
Bargain: Reggie Bush - $4,600 (43rd among running backs)
Bush has the backfield to himself in New Orleans, with the Saints placing both Pierre Thomas and Chris Ivory on injured reserve Wednesday. If popular opinion holds, the Saints will blow out Seattle and spend much of the game simply running out the clock. This means a big day for Bush, as his only competition for carries is former Eagle great Joique Bell.
Bust: Marshawn Lynch - $6,100 (7th among running backs)
As previously stated, the Saints should blow out the Seahawks. This will not allow much opportunity for Lynch to ply his trade in the backfield. Seattle will be throwing the ball often and likely futilely in an attempt to catch up, leaving few opportunities for the man with the golden teeth.
CHIEFS VS. RAVENS
Bargain: Tony Moeaki - $4,600 (6th among tight ends)
Moeaki has been the second-most reliable receiver in the Chiefs offense, with several acrobatic touchdown catches on the season. With the high-pressure Ravens defense likely to pressure Matt Cassel, he could look often to for his tight end on checkdowns. There's a good chance Moeaki snags a touchdown in this one.
Bust: Ravens defense - $6,900 (2nd among defenses)

Having just called them a high-pressure defense, we must say the Baltimore defense has lived more off reputation than production this season. They still are capable of forcing turnovers and scoring on returns. Against Cassel, they may not get the chance to force those turnovers, as he's thrown only seven interceptions this season. Combine that with the explosiveness of running back Jamaal Charles and Bowe, and the Ravens could be in for a tough game.
COLTS VS. JETS

Bargain: Pierre Garcon - $5,800 (10th among wide receivers)
Garcon has become Peyton Manning's most trusted target in a lot of ways, especially in the red zone. It's not the best matchup against the strong New York football Jets defense, but the Colts should score a couple touchdowns at least. Garcon will get his chances, and has a good shot to score, especially if Antonio Cromartie is lined up across from him rather than Darrelle Revis.
Bust: Joseph Addai - $7,200 (3rd among running backs)
Addai returned to the Colts in Week 16 after suffering a neck injury that kept him out since Week 6. While he did score a touchdown in that first game back, he has not topped 45 yards despite rushing more than 10 times in each game. The Colts have had very little production from their running backs this season. Don't expect that to change this week, nor Addai to live up to his price.
---
Wild Card Weekend Roster
We thought it was hard to make picks last week, with so many meaningless games, but now there are only four games. That's it. Four.
That means eight starting quarterbacks, eight defenses, eight (or so) starting running backs, and so on.
Couple that with some great defenses and making picks was quite a challenge.
We took a chance at quarterback, picking Vick, the highest priced player. Although he has been arguably the top fantasy player this year, he has struggled recently and is playing behind an offensive line that has more holes than a Tiger Woods' alibi.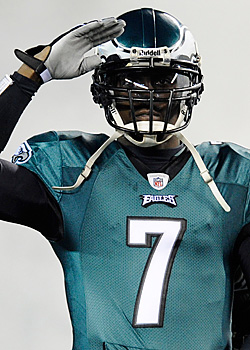 Vick torched the Packers in his brief appearance in Week 1, replacing an injured Kevin Kolb. However, the Packers game-planned for Kolb, and Dom Capers had to scheme against one of the most explosive weapons in football basically on the fly.
Now, they've had a full week to prepare, and Capers and Co. should have a better idea of how to contain him. (Hint to Capers: Blitzing the corner seems to work)
So now that we've given you a list of reasons why we shouldn't have picked Vick, here is the one reason we did: Containing Vick and stopping him are two totally different things.
The Giants were able to contain Vick in Week 15, but only for three quarters. As we all learned, especially Tom Coughlin, eight minutes is more than enough time for Vick to rack up some serious points.
We'll just go ahead and say it: You cannot stop him, you can only hope to contain him.
At running back, we went with a top-tier player and a bargain (albeit a no-brainer): Charles against the Ravens and Bush against the Seahawks.
The only thing we see stopping Charles is Todd Haley and his inexplicable love for Thomas Jones. Jones had 245 carries this year compared to 230 for Charles.
Oh, and Charles (6.4 yards per carry) out-rushed Jones (3.7 yards per carry) by almost 600 yards. Don't let us down Haley. It's the playoffs. You wouldn't leave your star horse in the stable during the Kentucky Derby, so don't be hesitant to give the ball to your young stud.
The no-brainer bargain in the backfield is Bush. He should get plenty of touches, even in the Saints pass-first offense.
Did we mention he is facing the Seahawks? Yes, the 7-9 Seahawks. The first sub-.500 team to reach the playoffs. Those Seahawks. The 12th man won't save them this week. Sorry, Seattle.
Because of the money we saved on Bush, we were able to snag three big-name wideouts. Jennings, Reggie Wayne, and Jeremy Maclin are all dangerous this week, but for different reasons.
Jennings has Aaron Rodgers, and that always helps. But the real reason he could blow up this week is because of the depleted Eagles secondary he will go up against.
Wayne is the Colts' No. 1 receiver, and he has Manning The Elder lobbing him balls. Yes, they are facing the Jets, but they will be playing at home, in a dome, and that seems to favor Wayne and the Colts.
Maclin has Vick. He also scored a touchdown when the two teams squared off in Week 1. And he has Vick.
We decided to pick on the Seahawks a second time, picking the Saints defense against the NFC West champs. Matt Hasselbeck just doesn't do it for us. Plain and simple.
He will do it for the Saints, though.
Here is a look at the rest of our roster for this week:
QB - Michael Vick (GB@PHI) - $8,900
RB - Jamaal Charles (BAL@KC) - $8,000
RB - Reggie Bush (NO@SEA) - $4,600
WR - Greg Jennings (GB@PHI) - $7,500
WR - Reggie Wayne (NYJ@IND) - $6,900
WR - Jeremy Maclin (GB@PHI) - $6,200
TE - Jacob Tamme (NYJ@IND) - $5,800
K - Garrett Hartley (NO@SEA) - $5,400
D - New Orleans Saints (NO@SEA) - $6,400
Salary cap remaining: $300
Don't forget to sign up for this weekend's challenge. Just click here to join.
---
Matt Mullin is a sports producer at philly.com and can be reached at mmullin@philly.com. Follow him on Twitter: @matt_mullin.
Andrew O'Brien works on the sports desk at philly.com and can be reached at aobrien@philly.com.