We all do it. Whether consciously or not, every sports fan pegs a letter grade next to their team's draft as a way of deciding whether or not it was successful. We here at Philly.com/Sports love hearing from our readers and like offering you an easy way to tell us how you feel about the draft.
While we know not everyone reading our site is an expert, we do acknowledge that this city has some of the most knowledgeable sports fans in the country. And when you have an opinion, you like to let it be known (especially when it is an angry one)
That is exactly what we found out in our two most recent polls regarding the Sixers selection of Maurice Harkless in the first round and the trade to acquire Arnett Moultrie, the 27th overall pick.
Here are the questions, and the feedback we have gotten as of 10 a.m, Friday (the day after the draft).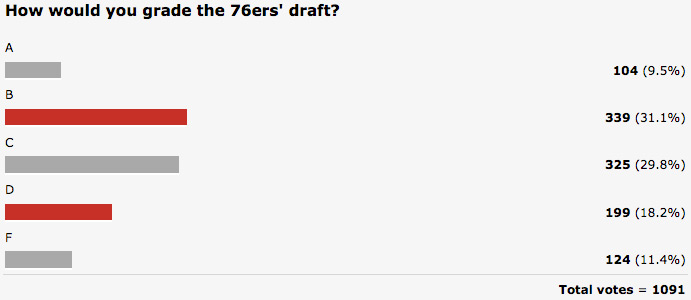 While the fans are not impressed with the Sixers' draft, the experts seem to like it, if not outright love it.
Adi Joseph of USA Today gave Harkless a B grade:
Harkless' declaration for the NBA draft was among the more surprising this season, but he has tremendous upside. He reminds us of Indiana Pacers swingman Paul George, who left Fresno State a year before he was ready and took time but is now a rising star. Harkless should replace Andre Iguodala, if he is traded, and he's more of a scorer than shooting guard Evan Turner. He's not a great fit, though, as the 76ers need a center, but he has high upside at No. 15. Grade: B
And he gave Moultrie an A-:
Moultrie would have been a great fit for the Miami Heat, but they traded him to the 76ers for a future first-rounder and the 45th pick. Instead, he'll be an excellent fit for the 76ers. He's tough and athletic and can shoot, and at 21, he's ready to contribute now. Perry Jones might be the best player available, but Moultrie was the best fit for the 76ers. Grade: A-
Matt Moore of CBS Sports gave the Sixers an A-, and had this to say:
Moe Harkless (15): This was somewhat baffling because the Sixers have guys at his position – Andre Iguodala and Thaddeus Young. Harkless is young and will take some time to develop, but he's got a chance to be a quality starter in the league. He's long, rebounds well and can also get to the basket and finish. He can be brought along slowly, but the reward could be tremendous.
Arnett Moultrie (27): The 76ers needed a big man with the potential loss of Lavoy Allen and they were fortunate that Moultrie, who has no shortage of off-court question marks, was still on the board at 27. Moultrie's major strength is his ability to rebound — and that's what Philly needs. Moultrie also possesses a decent skill level, but he'll get on the court due to his ability to get things done on the glass.
Sports Illustrated's Chris Mannix listed the Sixers as one of the draft's three winners:
At No. 15 the Sixers took St. John's forward Maurice Harkless, a raw but extremely gifted small forward. Then the Sixers cut a deal with Miami to acquire Mississippi State big man Arnett Moultrie, a double-double machine with the Bulldogs who can defend and hit the offensive glass. The decision to draft Harkless likely spells the end for Andre Iguodala, who could be moved for a shooter the Sixers sorely still need.
Chad Ford of ESPN wasn't as positive as some of the others:
Harkless: Harkless has been rising as we've moved closer to the draft. He's a very good athlete and an excellent slasher, reminiscent of Trevor Ariza. But did they really need another non-shooter in Philly?
Moultrie: The Heat are trading Moultrie's draft rights to the 76ers for a future first-round pick and the 45th pick in the draft. Moultrie was a favorite of the Sixers and he fits them well. He's another great athlete and he can really rebound. He also can spread the floor and even can shoot 3s. He's not a shot blocker and he can disappear, but he's great value here.
And Royce Young of CBS Sports was even less positive, giving Harkless and Moultrie a C and a B-, respectively:
Harkless: The Sixers just added another player that can't shoot and needs to get to the rim to score. He can defend, but isn't this just Andre Iguodala lite? You have to assume he's a future replacement for Iguodala who the 76ers have been trying to trade for forever. If so, not a bad pick. If not, curious.
Moultrie: This pick being traded to the 76ers from the Heat, but a bit of an unexpected free fall for Moultrie. Some had him as a late lottery guy and here he is falling nearly out of the first round. The Sixers can use more size and Moultrie is an athletic, explosive player that needs to refine his game.