The Eagles' chances of making the playoffs have fallen without them even playing a game, according to MakeNFLPlayoffs.com. They do, however, remain in control of their own destiny - winning their last five games would guarantee a playoff berth.
Before their bye week, the first-place Birds had a 54 percent chance of playing postseason football. They also had a 46 percent chance to win the division. Those numbers are down after Week 12 wins from the Cowboys, Panthers, 49ers and Cardinals.
The Eagles, now tied with Dallas for first place in the NFC East, currently have a 46 percent chance of making the playoffs. They also have a 40 percent chance to win the division.
The Cowboys currently hold the NFC East tiebreaker advantage after beating the Eagles, 17-3, in Week 7. A 4-0 divisional record gives Dallas the second tiebreaker as well.
The Birds, on the other hand, are 3-2 against NFC East opponents. Their next four games will be against the Cardinals (7-5), the Lions (6-5), the Vikings (2-8), and the Bears (6-5).
The Cowboys next four games are against the Raiders (4-7), the Bears (6-5), the Packers (5-5), and the Redskins (3-8).
If the playoffs started today, the Cowboys would be in for the NFC East and the two wild card spots would be given to the fifth seed Panthers and the sixth seed 49ers. The eighth seed Eagles would be golfing.
Depending on how the next four weeks go, the battle for the NFC East could come down to the regular season finale between Philadelphia and Dallas on December 29 at AT&T Stadium.
Here's a full look at the Eagles playoff odds: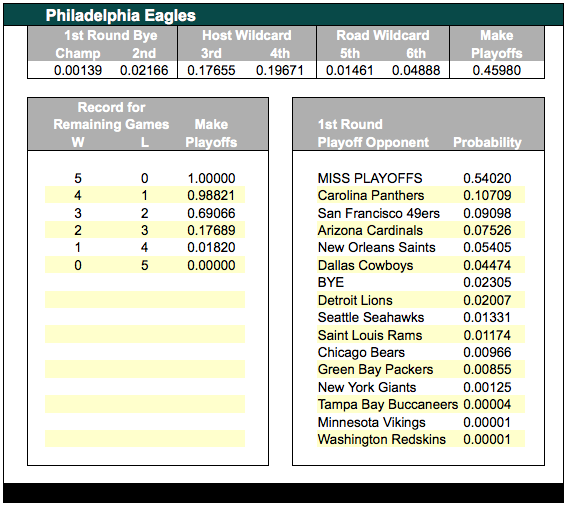 Head over to makeNFLplayoffs.com for odds on every NFL team.