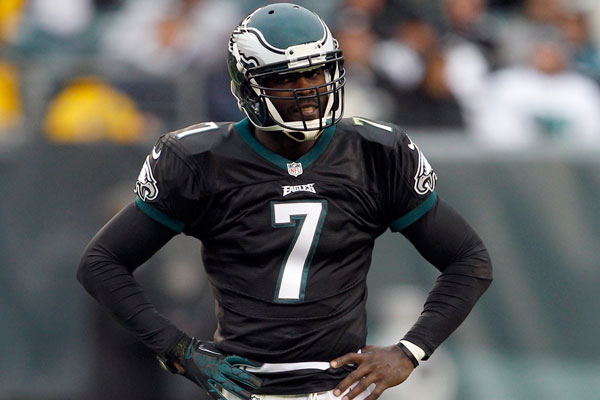 After the Eagles' loss to the Falcons on Sunday, Michael Vick's future is looking increasingly uncertain. (Yong Kim/Staff Photographer)
The Eagles' season might as well be over, but the NFL season is only at the halfway mark. Atlanta continues their ride at the top of the NFL as the league's only undefeated team, Kansas City remains terrible and we get our first glance at what resembles a playoff picture, at least among the top teams in the respective conferences.
Coming up: How many more players did the Ravens lose to injury during their bye week? Are the Broncos the second-best team in the AFC? Who is the lowest-ranked team with a winning record? And which team's fans are flying banners over their stadium in hopes of getting the general manager fired?
1. Atlanta (7-0); Last week: 1| Week 8 result: Won at Philadelphia, 30-17
The Falcons played maybe their best game of the season against what should have been their toughest opponent thus far. Three touchdown passes from Matt Ryan in the first half put the game out of reach early, as the offense had little trouble moving down the field against an Eagles' defense that either could not or did not care to stop them.
Next up: vs. Dallas
2. Houston (6-1); Last week: 2 | Week 8 result: Bye
After blowing out the Ravens, the Texans enjoyed their bye week with a clear leg up on their AFC competition for homefield advantage.
Next up: vs. Buffalo
3. New York Giants (6-2); Last week: 3 | Week 8 result: Won at Dallas, 29-24
The Giants went up 23-0 on the Cowboys quickly, only to fall behind, 24-23, before pulling out the win. Five Lawrence Tynes field goals accounted for more than half of the Giants' scoring and the defense picked off Tony Romo four times, including a pick-six for Jason Pierre-Paul. Eli Manning was ordinary, though, and New York came within a Dez Bryant finger of a big collapse.
Next up: vs. Pittsburgh

4. San Francisco (6-2); Last week: 5| Week 8 result: Won at Arizona, 24-3
Alex Smith threw two more touchdowns (three) than incomplete passes (one) in the 49ers' easy win over the Cardinals. San Francisco's defense, ranked No. 2 in the NFL in rushing yards allowed, held Arizona to seven yards on nine carries. And head coach Jim Harbaugh imitated a turkey in his postgame press conference.
Next up: Bye
5. Chicago (6-1); Last week: 4 | Week 8 result: Won vs. Carolina, 23-22
The Bears, down 19-7 heading into the fourth quarter, used a Tim Jennings interception return for a touchdown and a last-second field goal by Robbie Gould to walk off with the win. Chicago now has six touchdowns off interceptions, best in the NFL.
Next up: at Tennessee
6. New England (5-3); Last week: 7 | Week 8 result: Won at St. Louis, 45-7
The Patriots entertained their London hosts by falling behind 7-0 in the game's first three minutes, only to take a 28-7 lead into halftime en route to scoring 45 unanswered points. Tom Brady threw four touchdown passes, two each to Brandon Lloyd and Rob Gronkowski. After one of Gronkowski's touchdowns, he imitated the Buckingham Palace guards - or, as he put it, "The little Nutcracker dude, guarding the house, the palace."
Next up: Bye
7. Green Bay (5-3); Last week: 6 | Week 8 result: Won vs. Jacksonville, 24-15
Without his two top wide receivers, Aaron Rodgers and the Packers beat a bad Jaguars team at home by only single digits. Rodgers threw for two touchdowns, one each to Randall Cobb and Donald Driver, on only 186 yards passing. The Green Bay special teams helped with a touchdown of its own, recovering a blocked punt in the end zone.
Next up: vs. Arizona
8. Denver (4-3); Last week: 8 | Week 8 result: Won vs. New Orleans, 34-14
After a few shaky outings to begin the season, Peyton Manning looks like his old self, leading the Broncos to their third straight win with a blowout of the Saints. Manning threw for 305 yards, making it the fifth straight game he has passed for 300-plus, and three touchdowns, while Willis McGahee ran for another score to go along with 122 rushing yards. The Broncos are clearly the best team in the AFC West.
Next up: at Cincinnati
9. Baltimore (5-2); Last week: 9 | Week 8 result: Bye
Baltimore did not suffer any injuries on their bye week, and they get to play the Browns in their first game after it. Finally, some good news.
Next up: at Cleveland
10. Pittsburgh (4-3); Last week: 11 | Week 8 result: Won vs. Washington, 27-12
The Steelers handled Robert Griffin III in ways that most other teams have been unable to, holding him to under fifty-percent passing and just eight rushing yards. Ben Roethlisberger threw for three touchdowns and Jonathan Dwyer topped 100 yards rushing for the second straight game.
Next up: at New York Giants
11. Miami (4-3); Last week: 16 | Week 8 result: Won at New York Jets, 30-9
The Dolphins may be this year's surprise team, with their victory over the Jets extending their winning streak to three games. Miami could very well be 5-1, with two of their three losses coming in overtime. Of course, they've only played one team with a winning record (Houston). Miami's defense is allowing 18 points per game, good for fifth in the NFL.
Next up: at Indianapolis
12. Minnesota (5-3); Last week: 10 | Week 8 result: Lost vs. Tampa Bay, 36-17
Christian Ponder has come back to Earth in the past couple weeks after getting Minnesota out to a surprising start. Ponder was uneven in the Vikings' win in Week 7, but struggled with the Buccaneers' pass rush in the Week 8 loss. Of course, he cannot do much about the Vikings' defense allowing Doug Martin to total 214 yards and two touchdowns.
Next up: at Seattle
13. Seattle (4-4); Last week: 12 |Week 8 result: Lost at Detroit, 28-24
After taking a 24-21 lead with 5:21 remaining, Seattle's defense could not stop Matthew Stafford from driving the field and throwing a touchdown pass to Titus Young with 20 seconds left. Third down was a major problem for the Seahawks all game, as the Lions converted 12 of 16 attempts. Marshawn Lynch rushed for 105 yards on just 12 carries in the loss.
Next up: vs. Minnesota
14. Washington (3-5); Last week: 13 | Week 8 result: Lost at Pittsburgh, 27-12
After two losses in which they fell short against the Falcons and Giants, the Redskins were shut down by the Steelers. Robert Griffin III played his worst game of the season, completing only 16 of 34 passes and not even reaching double digits in rushing yards. Washington's defense, meanwhile, allowed three passing touchdowns. Kai Forbath even had his extra point blocked after the team's only touchdown.
Next up: vs. Carolina
15. Arizona (4-4); Last week: 14 | Week 8 result: Lost vs. San Francisco, 24-3
Four straight losses for the Cardinals after opening the season with four straight wins. The defense that started out the year so strong allowed Alex Smith - yes, him - to throw only one incomplete pass. But it's hard to blame them too much when they enter every game knowing the quarterback they are facing is better than their own, whether it's John Skelton or Kevin Kolb.
Next up: at Green Bay
16. Cincinnati (3-4); Last week: 19 | Week 8 result: Bye
Cincinnati moved up in the rankings with their week off because the Cowboys, Chargers and Eagles were all previously ranked above them.
Next up: vs. Denver
17. Dallas (3-4); Last week: 18 | Week 8 result: Lost vs. New York Giants, 29-24
It was a tale of two different Cowboys teams in their matchup with the Giants. One team went down 23-0 to the Giants early in the second quarter, while the other scored 24 unanswered points to take the lead and then came within a fingertip of winning on a Dez Bryant touchdown reception that was just out of bounds with 10 seconds left. It was a classic Tony Romo-led Cowboys loss.
Next up: at Atlanta
18. PHILADLEPHIA (3-4); Last week: 15 | Week 8 result: Lost vs. Atlanta, 30-17
"Good thing they got rid of Juan Castillo!" everyone badly joked, followed by everyone groaning in reaction to the bad jokes involving Castillo and the state of the Eagles' season. In their third straight loss, the Eagles allowed the Falcons to score on their first six possessions, only forcing a punt late in the fourth quarter. Calls are coming for Andy Reid's firing and the benching of Michael Vick for Nick Foles. Is this the end of an era?
Next up: at New Orleans
19. San Diego (3-4); Last week: 17 |Week 8 result: Lost at Cleveland, 7-6
After Hunter Pence, Mike Richards and Jeff Carter, it is inevitable that Andy Reid will win a Super Bowl as the head coach of the Chargers next season, right?
Next up: vs. Kansas City
20. Detroit (3-5); Last week: 24 |Week 8 result: Won vs. Seattle, 28-24
For the second time in three weeks, Matthew Stafford led a game-winning drive late in the fourth quarter, this time throwing a one-yard touchdown pass to Titus Young with 20 seconds left to give Detroit the win. On the day, Stafford threw for 352 yards and three touchdowns, and also ran for another touchdown.
Next up: at Jacksonville
21. Indianapolis (4-3); Last week: 26 |Week 8 result: Won at Tennessee, 19-13 (OT)
Thanks to a Vick Ballard 16-yard touchdown reception in overtime, Andrew Luck and the Colts moved above .500 for the first time this season. Luck threw for 297 yards to go along with the touchdown, helping his team tie the game late in the fourth quarter to force overtime.
Next up: vs. Miami
22. New Orleans (2-5); Last week: 21 | Week 8 result: Lost at Denver, 34-14
Drew Brees could not match Peyton Manning, and neither could the Saints' defense. Who would expect them to with the numbers they have allowed this season? Opponents are averaging 30.9 points per game and have yet to score less than 24 against New Orleans, which ranks 30th in the league in passing yards allowed and 31st in rushing. No amount of Brees passing yards is going to compensate for that.
Next up: vs. Philadelphia
23. Tampa Bay (3-4); Last week: 27 | Week 8 result: Won at Minnesota, 36-17
Tampa Bay's offense has been a surprising juggernaut in the past few weeks, having scored 38, 28 and 36 points since their bye week. Josh Freeman has thrown three touchdown passes in each of those games, to go along with one interception. Rookie Doug Martin had his best game as a professional, accounting for 135 rushing and 79 receiving yards and two touchdowns (one rushing, one receiving). The Bucs' defense sacked Christian Ponder three times and picked him off once.
Next up: at Oakland
24. St. Louis (3-5); Last week: 23 | Week 8 result: Lost vs. New England, 45-17
Londoners are breathing a sigh of relief that the Rams canceled their deal to play games in England in 2013 and 2014 after this performance. St. Louis' offense ceased to exist after a long Sam Bradford touchdown pass to Chris Givens 2:35 into the game and the defense didn't force the Patriots to punt until late in the third quarter.
Next up: Bye
25. New York Jets (3-5); Last week: 20 | Week 8 result: Lost vs. Miami, 30-9
If you think Mark Sanchez throwing 54 passes in a game is a sound strategy, you are wrong. The Jets' quarterback amassed 283 passing yards for the game, a meager 5.2 yards per attempt. New York also had a punt blocked that was recovered for a touchdown and a kick blocked, and did not score until 11:53 in the third quarter. And yet, this was still not enough for Tim Tebow to get his shot.
Next up: Bye
26. Buffalo (3-4); Last week: 25 | Week 8 result: Bye
The Bills are fourth in the NFL in rushing yards per game, averaging 150.3. Unfortunately, their defense is dead last in rushing yards allowed, averaging 176.9. Not exactly a good sign that their next opponent employs Arian Foster and a defense allowing 83 rushing yards per game.
Next up: at Houston
27. Tennessee (3-5); Last week: 22 | Week 8 result: Lost vs. Indianapolis, 19-13 (OT)
The Titans nearly found themselves in position to win late in regulation after Colts fullback Dwayne Allen appeared to fumble after a reception and the Titans recovered, but Allen was ruled down by contact. After losing the toss in overtime, Tennessee never got the ball. Chris Johnson has shown signs of life in his past three games after an horrific start, rushing for 99, 195 and 91 yards, but only has two touchdowns on the season.
Next up: vs. Chicago
28. Oakland (3-4); Last week: 28 | Week 8 result: Won at Kansas City, 26-16
Oakland got their sixth straight win at Arrowhead Stadium in relatively easy fashion. Darren McFadden ran for 114 yards and Denarius Moore and Darrius Heyward-Bey each caught a touchdown pass. The Raiders' defense knocked Chiefs quarterback Brady Quinn out of the game and almost held Kansas City without a touchdown before a late score.
Next up: vs. Tampa Bay
29. Cleveland (2-6); Last week: 29 | Week 8 result: Won vs. San Diego, 7-6
Cleveland is now 2-1 in their last three games, though this was an ugly affair in which the only touchdown was scored in the first quarter. Brandon Weeden completed 40.7% of his passes but Trent Richardson ran for 122 yards and the game's only score. The Browns' defense held the Chargers to a pair of field goals.
Next up: vs. Baltimore
30. Jacksonville (1-6); Last week: 30 | Week 8 result: Lost at Green Bay, 24-15
Without Maurice Jones-Drew, the Jaguars hung with the Packers in Green Bay. Blaine Gabbert threw for 303 yards, topping 300 for the first time in his career, and Cecil Shorts caught eight passes for 111 yards. Jacksonville's defense kept Aaron Rodgers in check, but the offense could not get any closer than six points in the fourth quarter.
Next up: vs. Detroit
31. Carolina (1-6); Last week: 31 | Week 8 result: Lost at Chicago, 23-22
Another week, another close loss for the Panthers. Carolina blew a 19-7 halftime lead and led 22-20 with 2:27 to go in the game, but let the Bears drive down the field to set up Robbie Gould's game-winning field goal from 41 yards as time expired. Cam Newton threw for 314 yards but no touchdowns and was intercepted twice, including one that was returned for a touchdown.
Next up: at Washington
32. Kansas City (1-6); Last week: 32 | Week 8 result: Lost vs. Oakland, 26-16
The Chiefs have not led for one second this season. But don't worry - Matt Cassel will return as the starting quarterback in Week 9 after replacing an injured Brady Quinn in their loss to the Raiders. Jamaal Charles received just five carries, for four yards, and head coach Romeo Crennel seemed to not know why. Meanwhile, planes carrying banners flew over the stadium before the game urging the Chiefs to fire GM Scott Pioli. Fun times in Kansas City.
Next up: at San Diego