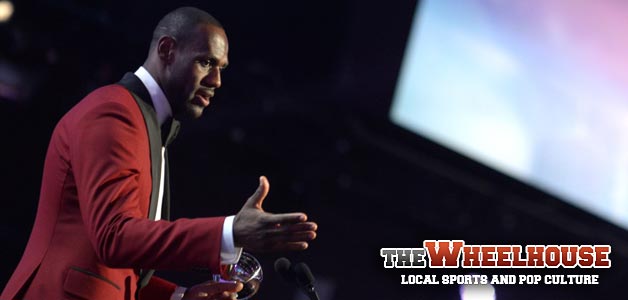 The ESPYs were on last night, a fact easily overshadowed by the announcement of Sharknado 2. Better yet, if you're on Twitter, you could potentially give them the title, because it's a Sharknado sequel, and it's Syfy, and honestly, why not.
Some may argue that there are more cinematic stories to tell – like this guy who just woke up in a hotel in California with no memory and only speaks Swedish – but that's why people like that need to watch this image on infinite repeat.
But hey, LeBron James was honored, multiple times, at the ESPYs! So basically, every day is the ESPYs on ESPN, but one day a year, they build a stage.
GREAT A'S
The Athletics love Yoenis Cespedes, and they want you to love him, too. Love him with your eyes. So now you can enter the park an hour early for strictly Cespedes-gawking purposes.
This might be a good decision regardless, because in Philadelphia our athletes aren't as gawkable. They're too busy committing crimes that cost them hundreds of dollars in fines.
Those are some bad crimes.
THOR + SWEET CAR = MOVIE
Yes, but do we really need another movie in which professional dreamboat Chris Hemsworth rattles through a script with his gruff-yet-smooth accent, this time seducing nurses and redeeming himself while being a ne'er-do-well Formula One racer?
The answer is an explosive "yes."
SO LIKE US
Matt Harvey is just like you.
He appeared nude in ESPN the Magazine, you appeared accidentally, partially nude in that picture you wish your friend would untag you in. He started the All-Star Game, you started putting together an end table from IKEA but fell asleep. He's got a bright, lucrative future ahead of him; you almost fell down an open manhole and got laughed at by a bunch of city workers.
Yes, the comparisons are endless. So when Matt Harvey makes a statement about wanting to date all the beautiful women in New York like Derek Jeter, you can totally relate.
He also plans on moving into a $200 million apartment at some point. I mean, what's taking him so long! Join the rest of us in the high life, already.
Lastly, he yearns to usurp Jeter's role as the "King of New York." Well, he better move quickly. A-Rod's on his way back and it's pretty accurate to say that guy's star is on the rise.
Love this terrified A-Rod look. MT @CoconnellFox29: I asked ARod about his meeting w MLB and connection to BioGenesis pic.twitter.com/NoaymPAnR9

— Dan McQuade (@dhm) July 15, 2013