Ed Werder, who covers the NFL for ESPN, was on SportsCenter on Friday discussing the biggest offseason storyline in the NFL: Andy Reid being named the Kansas City Chiefs' next head coach.
During the course of the segment, Werder pointed out that Chiefs owner Clark Hunt and now-former GM Scott Pioli met with Reid in Philadelphia for close to nine hours, but flew home to Kansas City while Reid remained in Philly.
Why did Reid stay? According to Werder's questionable sense of humor, one potential reason is that Reid may have "put the plane over its weight limit."
Thank you. Thank you. I'll be here all week. Try the veal.
Later, Werder took to Twitter to apologize for his "bad attempt at humor."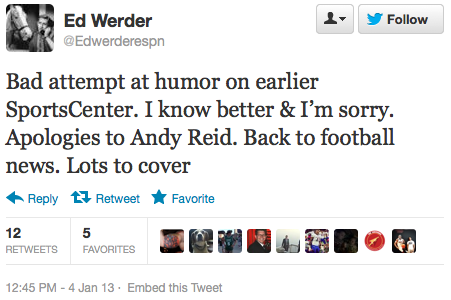 I don't have a huge problem with Werder making a joke about Reid's weight - maybe because during his 14-year tenure I have become so accustomed to hearing them that I block them out.
What's really offensive is how unfunny the joke - or attempt at a joke - was to begin with.