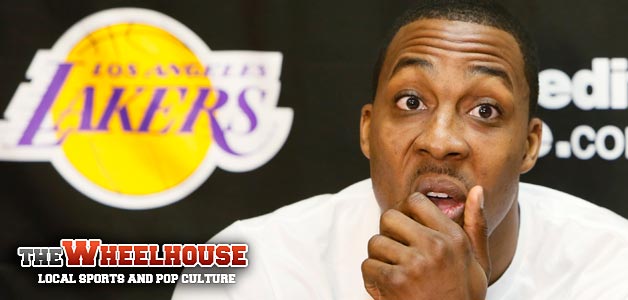 Fans have become so attached to Dwight Howard in Los Angeles that the thought of him leaving has become truly unbearable. Howard, however, is undecided, and once again not taking "fans' emotions" into account during his decision.
Which means we're in for one white knuckle summer of watching a pro athlete's career decisions get stretched into a meaningless narrative!
Indecision 2013: The Summer of Dwight Howard begins.

— Kevin Negandhi (@KNegandhiESPN) June 27, 2013
Yes, basketball analysts worldwide can look forward to falling back on content that becomes so thin and without purpose that people who turn their TVs on just for the background noise will be literally hearing nothing but noise in the background.
Unless...
THIS JUST IN: Dwight Howard is unlikely to re-sign with Lakers this offseason, sources close to the situation tell ESPN's @Chris_Broussard.

— SportsCenter (@SportsCenter) June 27, 2013
SEARCHING FOR BOBBY RYAN
Will the Flyers acquire Bobby Ryan this offseason? Well, who wouldn't want to come to Philadelphia and play hockey right now?
So here's a video to get you excited about the prospect of attaining Ryan/possibly be the closest thing you get to seeing him play for the Flyers.
NIX'D
The Regrettable Decision of the Evening goes to Jayson Nix of the Yankees, who put on this little performance with inadvertent help from Any Pettitte.
Nix would go on to ground into a rally-killing bases loaded double play. But it's the Yankees, so this actually makes him the good guy.
ADAM BOMB
It's been established that Sixers CEO Adam Aron will be staying in Philadelphia; there was just some confusion, as the team took seven hours to explain that he'd not been fired, and Aron himself couldn't deny it, because he had of course gone on holiday in Africa several days before the NBA Draft.
So. That explains that.
With the draft just hours away, Aron is already expecting your messages, so you might as well shoot him a few hundred.
The excitement surrounding NBA Draft is at hand. I'm guessing I will receive a ton of tweets tonight about 76ers draft decisions. Go Sixers!

— Adam Aron (@SixersCEOAdam) June 27, 2013
COURT IS IN SESSION
In the epilogue of her 16th grand slam title, Serena Williams (who might be on her way to about 40 of them) is faced with a challenge by Andy Murray. Well, not so much a challenge as a friendly offer. And not even that, really; just a thing people are talking about.
Which takes some of the drama and tension out of it, but is impossible not to compare to the last time this happened.
Watch Battle of the Sexes on PBS. See more from Makers: Women Who Make America.
TAKE US HOME, STEVE MARTIN PLAYING THE BANJO