The great March Madness fight song-off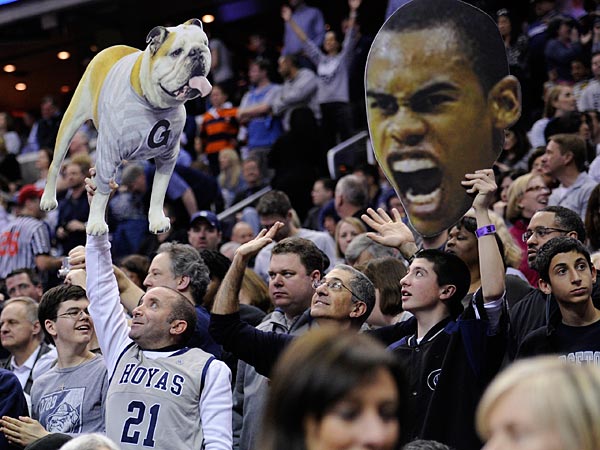 If there's anything young people like to do in public, it's sing.
The great March Madness fight song-off
If there's anything young people like to do in public, it's sing. Rarely does a weekend pass without teenagers and students assembling at the Old College Hangout to have yet another of their classic Young People Sing-Offs. Which is why we so often see the trend implemented at college sporting events.
Why, just listen to these totally comfortable Georgetown students and staffers give their fight song a go; and they didn't even make it up as they went like it sounds.
As students and fans fill the Wells Fargo Center today, let's take a look at the various fight songs of some participating schools, and how well they accommodate that fiery passion of young folks to warble off a tune.
DUKE
"Fight! Blue Devils! Fight!"
The name is a little spastic and intrusive, as if someone has kicked in your bedroom door and started jabbing you in the chest about the Blue Devils.
It's quite a merry piece instrumentally, taking horns and flutes on a fun little ride before cymbals and percussion crash suddenly, like that guy who burst into your room from before. The lyrics are less enticing, mostly because we didn't hear them in this version and even if we had there would have probably been some Duke students singing them.
CINCINNATI
"Cheer Cincinnati"
The name-chanting is a good way to get people into it. Then, there's the age-old technique of spelling out the team's name; slowly, at first, not like Duke, who comes at you with some kind of four-letter verbal assault. Then, Cincinnati speeds up their chants, slows them down, goes fast again… it's jarring. How quickly should we be speaking? Are we trying to alarm our enemies with our speed or intimidate them with our relaxed we are? WHAT DOES IT ALL MEAN, CINCINNATI.
But no matter how melodious their music is, not even "Cheer Cincinnati" was enough to keep the Bearcat mascot from getting arrested. Mascots! Throwing snowballs! People getting led away in handcuffs! Was there one of these teams more fit to play in Philadelphia than Cincinnati?
GEORGETOWN
"There Goes Old Georgetown"