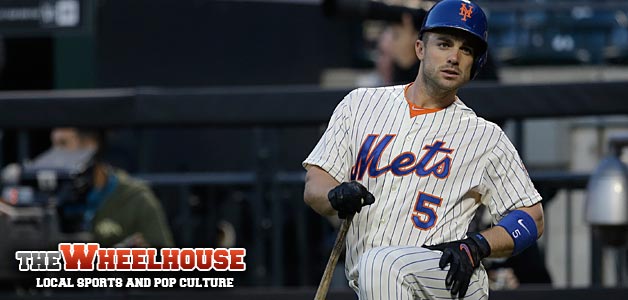 David Wright and Robinson Cano will be leading the NL and AL home run derby squads this year, a decision that has nothing to do with the All-Star Game being held in New York.
But this senseless corruption at MLB's highest level can all be ignored, as long as Wright selects the NL leader in home runs to be on his team.
So, go ahead and pick Domonic Brown if you want to, David Wright.
I mean, don't worry; nobody's going to be blinded with fury because Dom Brown is all we have left or anything. Just... choose wisely.
HE NEEDS HOCKEY TO LIVE
If you're like any sane person, you could sit there and listen to Matt Stairs talk about his NLCS home run that will live in Philadelphia's 2008 time capsule forever.
And fortunately now, instead of just watching the video highlights on a continuous loop, you can get his thoughts and memories of that night directly, courtesy of this podcast from The Blue Jays Dugout.
Then, be sure to follow Stairs on Twitter, as he is the best account to follow on nights when professional hockey isn't being played.
You know it's a boring night when hockey isn't on and you watch the NBA

— mstairs12 (@mstairs12) June 10, 2013
Less then 24 hours till next hockey game. Damn it's been slow last few days with no hockey.#hawks #bruins

— mstairs12 (@mstairs12) June 12, 2013
IT'S HIS DUTY
Michael Bay, the director who has stated, "I make movies for teenage boys. Oh dear, what a crime," will make a shocking career turn and helm a movie based on a video game.
The game in question is Tom Clancy's Ghost Recon, a franchise so warped and flipped since its inception that even Tom Clancy wouldn't recognize it anymore. Military-based first person shooters have been undergoing an intense test from consumers in the past few years:
IS GAME 'CALL OF DUTY?' Y/N
IF YES, PLAY
IF NO, FIND 'CALL OF DUTY'
With Call of Duty headlining the release of Xbox One, you'd think now would be the perfect time for Bay to take on what one would assume would be his dream project in a Call of Duty movie, but then you remember that there really is no time in which that would be described as "perfect."
WE'RE NUMBER ONE
Philadelphia is often number one, as long as you don't mean in sports, air pollution control, or public transit – but there are some aspects of life in Philadelphia that we take a little more seriously than silly old air pollution.
That's how we wound up as the best city in America for bacon lovers.
Not only are some of the more delectable dishes around here featuring greased-up strips of pig meat, but some of our most famous faces carry bacon's name; Kevin Bacon, our city's extension to Hollywood; Edmund Bacon, the man who designed the city, and others, probably.
We also have the best children's hospital but I don't see what that has to do with Kevin Bacon.
We also have the nation's most cartoonishly green radioactive hole.
NO SKIN OFF HIS NOSE
Dodgers wunderkind Yasel Puig took a break from hitting grand slams all the time last night to take a pitch off his nose.
Puig, who appeared to be hit in the face, puts on his helmet and runs to first base.

— Dylan Hernandez (@dylanohernandez) June 12, 2013
And that's it; that's where the story of the Dodgers' rising star and light of hope getting hit in the head with a pitch ended, with no retribution or consequences.
Actually, it might have, but things escalated until Diamondbacks starter Ian Kennedy later hit Zach Greinke in the helmet with a pitch, sparking what looked like a poorly-moderated debate that almost led to Arizona assistant coach Turner Ward getting hurled into a dugout.