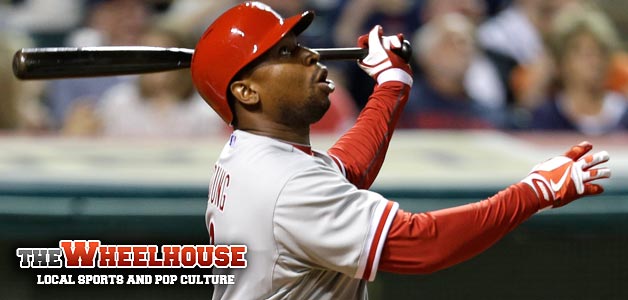 Many people questioned the Phillies' $750,000 signing of noted human controversy and flailing defensive liability Delmon Young, but those people shut up last night, when Young's Phillies career began with a second inning statement of a home run.
The Indians responded with an even louder statement in the form of a 14-2 win over Roy Halladay, that included a face-first slide into first base by Jason Giambi for some reason.
— Mike Eder (@mbonzo31) May 1, 2013
Young's success continued when he was hit with the baseball in his next at-bat, and even became part of an old Phillies baseball tradition: getting stranded at third base.
If last night was any indication, Young will be quite the presence on the Phillies' roster, as long as he does not have to play in the field and refrains from doing any horrible, subhuman things off of it.
SACRED UNION
The eastern coast has been alive with proclamations of athletic glory since the spring.
This one was better, though, because it came out of Philadelphia, and from a team whose season didn't just end and we have a whole offseason to forget that they said it.
The Union are playing soccer right now, and according to CEO Nick Sakiewicz, they aren't going to stop until they win an MLS cup. Maybe not this year, but in one of those years that follows it. Some time soon, the Union are going to turn their time-tested strategy of scouting athletes as young as six into the organic hoisting of a league championship trophy.
You'll see. YOU'LL ALL SEE.
BURGER KINGS
You know what this city needs? An afternoon of gorging on sizzling beef circles. That'll cure what ails us, whilst providing a litany of brand new ails.
Philadelphia's Burger Brawl - an event in which many burgers are consumed, not hurled at each other like the highly misleading name suggests - will take place on May 5th. Tickets can run you as much as $75, unless you're lucky enough to win a free pair.
Here's what you can expect, based on the 2011 inaugural ceremony.
Local restaurants will gather at the Fleisher Art Memorial from 3 to 6 p.m. to sling sliders and crushing insults at each other, all in the name of funding an elementary school.
AN ENLIGHTENING SIGN
You know what this city needs, besides the beef circle thing? A 55-foot, glow-in-the-dark tower, piercing the sky.
What it could actually use is a park, which it may get at Pier 53 between Front Street and Columbus Avenue, according to a recent Delaware River Waterfront Corporation meeting.
But how will people know there is a park there, you ask?
Well, that's where the phospherescent "land buoy" comes in: It will serve as the sign, letting people know there's a park up ahead. That way they finally have a place to pull over and collect their thoughts instead of laying on the horn or flipping off a school bus or any other facets of a Monday morning's majesty along Columbus Avenue.