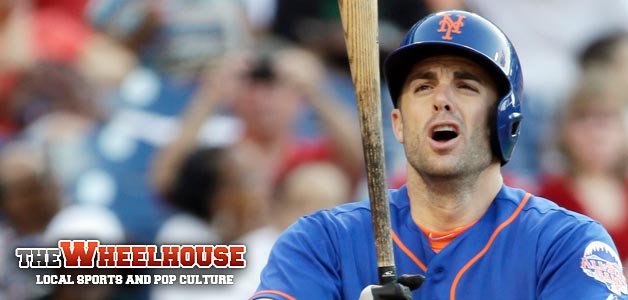 David Wright, All-Star third baseman and apparent coward, was named captain of the NL Home Run Derby team, yet decided it was best to not put the National League's second most potent home run-hitter on the squad.
Instead, we'll see Wright, NL-leading Carlos Gonzalez of the Rockies, "fan favorite" Bryce Harper, and Michael Cuddyer, also of the Rockies, who has hit 15 home runs in 269 at-bats. Meanwhile, Domonic Brown will be sitting over there, twiddling his thumbs, being second in the league with 23.
Wright explained, however, that he "grew up with Michael," which makes sense, as "nostalgia" is a far, far more valuable commodity in a home run derby than "the ability to hit a lot of home runs."
HE CAN'T SEE US IF WE DON'T MOVE
"Oh, lord… just, nobody look at him, okay? Does he want change? I don't have any... can't believe there's not any security down here. Just stay still and... we'll ride this out."
[Guyism]
BROWN OUT
In a follow-up to a story that surfaced yesterday, a man passed away in Ohio, leaving a bitter bit of passive aggression in his obituary aimed at the Cleveland Browns.
He requested six members of his favorite team act as pallbearers, so the team can "let him down" one final time. Everyone had a good chuckle and tipped their caps to his fandom, which was on par with that women who claimed she was surprised the Mets didn't kill her.
The difference here, though, is that the Browns are actually going to do this. They will also present the man's widow with the jersey of his favorite Browns player, Lou Groza.
The irony being that the Browns really, really came through on this one.
CARGO HEIST
Joey Votto came up with the Reds down two and a man on last night. It was the ninth inning, two outs, and there's probably not a better person to have stepping in at exactly that moment.
Unfortunately, as great as Votto is to have at the plate in that situation, Carlos Gomez is even better to have in center field.
It's just nice to see Gomez get that confidence back, you know?
IT'S REALLY A CLEAN CITY
But here's somebody's $300,000 investment, window-deep in Toronto's loveliest sewage.
#Toronto RT @TweetsByHira: $300,000 ferrari submerged in sewage water on lower simcoe if anyone's interested.. pic.twitter.com/0sa4qJyMpS

— Holly MacKenzie (@stackmack) July 9, 2013
"THIS IS AS FAST AS I GO!"
Phillies fourth string catcher Steven Lerud almost ran down former Phillies fifth string warm body Michael Martinez on their way to a bases-clearing double in Lehigh Valley.